[ Home ] [ Controlled Substances ] [ Opioids ]

Created Mar 2019

|

Updated Nov 2020
BUPRENORPHINE
[

BUPRENEX

]

[

TEMGESIC

]

[

SUBUTEX

]

[

SUBOXONE

]
About Buprenorphine:




Buprenorphine is a strong opioid painkiller. It's used to treat severe pain, for example during or after an operation or a serious injury, or pain from cancer.
It's also used for other types of pain you've had for a long time, when weaker painkillers have stopped working.
It can also be used to treat drug addiction, but this is usually by a specialist.
Buprenorphine for pain is available only on prescription. It comes as:

patches to put on your skin
tablets that dissolve in your mouth (sublingual)
injections (usually only given in hospital)




Key Facts:




Buprenorphine works by blocking pain signals from travelling along the nerves to the brain.
The most common side effects of buprenorphine are constipation, feeling sick and sleepy.
It is possible to become addicted to buprenorphine, but this is rare if you are taking it to relieve pain and your doctor is reviewing your treatment often.
It's best not to drink alcohol when you first start taking (or using) buprenorphine. You're more likely to get side effects such as feeling sleepy or drowsy.
Tell a doctor or nurse about your buprenorphine patch if you're having any treatment or tests. Also, remind your pharmacist about your patch when you collect prescriptions or buy other medicines.




How much will I take?




Buprenorphine can be used by most adults and sometimes children if a specialist doctor recommends it.
Buprenorphine tablets and injections are fast-acting. They're used for pain that is expected to last for a short time.

Tablets: 200 micrograms or 400 micrograms

Buprenorphine patches are usually only recommended if you've been taking other strong opioid painkillers.
Buprenorphine patches are slow-release. This means buprenorphine is gradually released through the skin into your body.

Patches: these release 5 micrograms, 10 micrograms, 15 micrograms or 20 micrograms every hour for 7 days, or 35 micrograms, 52.5 micrograms or 70 micrograms every hour for 3 or 4 days

Do not apply more than 1 patch at a time. Using more than 1 patch could cause a fatal overdose.




How long does it take to work?




A buprenorphine injection into a vein gives the quickest pain relief. It works almost straight away and is usually only given in hospital.
Fast-acting buprenorphine tablets take around 1 to 2 hours to work.
Buprenorphine patches can take up to a day or two to start working but they will last longer. Patches are usually given after buprenorphine tablets. This is to make sure that you have pain relief from the tablets until the patches start to work.



Buprenorphine is an opioid analgesic, used to treat opioid addiction, moderate acute pain, and moderate chronic pain. One unusual property of buprenorphine observed in vitro studies is its very slow rate of dissociation from its receptor. This could account for its longer duration of action than morphine, the unpredictability of its reversal by opioid antagonists, and its low level of manifest physical dependence. The principal action of the therapeutic value of buprenorphine is analgesia and is thought to be due to buprenorphine binding with high affinity to opioid receptors on neurons in the brain and spinal cord. Buprenorphine produces respiratory depression by direct action on brain stem respiratory centers. The respiratory depression involves a reduction in the responsiveness of the brain stem respiratory centers to both increases in carbon dioxide tension and electrical stimulation. Buprenorphine causes a reduction in motility associated with an increase in smooth muscle tone in the antrum of the stomach and duodenum. Digestion of food in the small intestine is delayed and propulsive contractions are decreased. Buprenorphine produces peripheral vasodilation, which may result in orthostatic hypotension or syncope. Manifestations of histamine release and/or peripheral vasodilation may include pruritus, flushing, red eyes, sweating, and/or orthostatic hypotension.
Buprenorphine (Suboxone, Subutex, Zubsolv, Bunavail, Probuphine) is an opioid medication used to treat opioid addiction in the privacy of a physician's office. Buprenorphine can be dispensed for take-home use, by prescription. This, in addition to the pharmacological and safety profile of buprenorphine, makes it an attractive treatment for patients addicted to opioids. Buprenorphine is different from other opioids in that it is a partial opioid agonist. This property of buprenorphine may allow for less euphoria and physical dependence, lower potential for misuse, a ceiling on opioid effects, relatively mild withdrawal profile.
From the 1960s until the year 2000, methadone was the primary option for people seeking narcotic replacement therapy to minimize withdrawal symptoms. Methadone is an opiate agonist that is prescribed under controlled circumstances to treat the symptoms of opiate withdrawal. In 2000, buprenorphine became the first narcotic drug that could be prescribed by certified physicians for the treatment of opioid dependence under the Drug Addiction Treatment Act. In that same year, between 810,000 and 1 million Americans were dependent on heroin in the US, according to the National Alliance of Advocates for Buprenorphine Treatment.
Unlike methadone, which is classified as a Schedule II substance under the Controlled Substances Act, buprenorphine is classified as a Schedule III substance, which means that its potential for abuse is lower than methadone. Methadone can only be prescribed by doctors who are registered under the Drug Enforcement Agency's Narcotic Treatment Program, and the medication can only be dispensed at authorized clinics. Buprenorphine can be prescribed by any doctor who has received specialized training and certification from the Center for Substance Abuse Treatment. Buprenorphine is widely considered to be a safer, more readily accessible treatment option than methadone.
Buprenorphine belongs to a class of drugs termed opiate agonists. Like heroin and other drugs derived from morphine, buprenorphine contains chemicals that link with opioid receptors in the brain to reduce pain and produce feelings of well-being. Before it was approved for opioid addiction treatment, buprenorphine was prescribed for many years as a pain reliever. When it's taken in the prescribed doses, buprenorphine replicates the actions of opioid drugs - only to a much lower degree.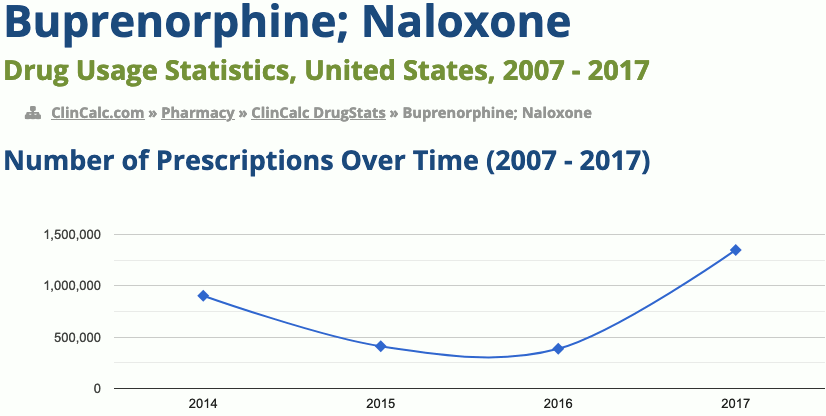 288th most prescribed medicine in the United States for 2017
Approved for clinical use in October 2002 by the Food and Drug Administration, buprenorphine represents the latest advance in medication-assisted treatment. When taken as prescribed, buprenorphine is safe and effective. Unlike methadone treatment, which must be performed in a highly structured clinic, buprenorphine is the first medication to treat opioid dependency that is permitted to be prescribed or dispensed in physician offices, significantly increasing treatment access.
Because of buprenorphine's opioid effects, it can be misused, particularly by people who do not have an opioid dependency. Naloxone is added to buprenorphine to decrease the likelihood of diversion and misuse of the combination drug product. When these products are taken as sublingual tablets, buprenorphine's opioid effects dominate and naloxone blocks opioid withdrawals. If the sublingual tablets are crushed and injected, however, the naloxone effect dominates and can bring on opioid withdrawals.
Buprenorphine and the combination of buprenorphine and naloxone are used to treat opioid dependence (addiction to opioid drugs, including heroin and narcotic painkillers). Buprenorphine is in a class of medications called opioid partial agonist-antagonists and naloxone is in a class of medications called opioid antagonists. Buprenorphine alone and the combination of buprenorphine and naloxone work to prevent withdrawal symptoms when someone stops taking opioid drugs by producing similar effects to these drugs.
Buprenorphine comes as a sublingual tablet. The combination of buprenorphine and naloxone comes as a sublingual tablet (Zubsolv) and as a sublingual film (Suboxone) to take under the tongue and as a buccal film (Bunavail) to apply between the gum and cheek. After your doctor determines an appropriate dose, these products are usually taken once a day.
Buprenorphine or buprenorphine/naloxone, a prescription drug, also referred to as "Bupe", helps people to stop using heroin or other opioid drugs. Opioid drugs, such as oxycodone and hydrocodone, are included in prescription pain pills such as Percocet, OxyContin, Lortab and Vicodin. Buprenorphine can be used for detoxification or for a longer period of time to help people who are addicted to opioid drugs and to help people who want to stop using these drugs.
Buprenorphine may be an appropriate treatment for people who are dependent on opioids, such as heroin and prescription drugs. Buprenorphine stops cravings, blocks withdrawal symptoms to prevent "dope sickness" and blocks the "high" from heroin and other opioids. Because buprenorphine helps with withdrawal and cravings, it can help to protect people from risky behaviors and can lower the chance of someone having an overdose. Additionally, people who are dependent on opioids and living with a chronic disease (e.g., HIV) are more likely to adhere to their chronic disease treatment and have better health outcomes if they are on buprenorphine treatment.
Buprenorphine
Duration:


A semi-synthetic opioid analgesic also known as subutex. Often administered as Butrans patches, or in combination with Naloxone as Suboxone, a heroin replacement therapy drug. Will cause withdrawals if you have an opioid tolerance and don't wait long enough (typically around 48 hours) before taking this.

NOTE: The ceiling dose for Buprenorphine is usually between 16mg and 32mg, anything above this will not produce any increase in effects. Also, after dosing 4mg your opioid receptors are completely covered.

Route
Onset
Duration
After Effects
Tripsit Factsheets

Low:
60-90 minutes
Dose hours
1-16 hours
Aliases:

Effects:
Euphoria, Dry Mouth, Mood lift, Itchiness, Relaxant, Constipation, Pupil constriction, Analgesia.
Important Information:


Buprenorphine sublingual tablets are not for use as a pain medication.

MISUSE OF OPIOID MEDICINE CAN CAUSE ADDICTION, OVERDOSE, OR DEATH. Keep buprenorphine in a place where others cannot get to it.

Taking buprenorphine during pregnancy may cause life-threatening withdrawal symptoms in the newborn.

Fatal side effects can occur if you use buprenorphine with alcohol, or with other drugs that cause drowsiness or slow your breathing.

Do not drink alcohol. Dangerous side effects or death could occur.

Avoid driving or operating machinery until you know how buprenorphine will affect you. Dizziness or drowsiness can cause falls, accidents, or severe injuries.
Interactions:


Drug Interactions (620) Alcohol/Food Interactions (1) Disease Interactions (15)


What other drugs will affect Buprenorphine?
You may have breathing problems or withdrawal symptoms if you start or stop taking certain other medicines. Tell your doctor if you also use an antibiotic, antifungal medication, heart or blood pressure medication, seizure medication, or medicine to treat HIV or hepatitis C.

Buprenorphine can interact with many other drugs and cause dangerous side effects or death. Be sure your doctor knows if you also use:

cold or allergy medicines, bronchodilator asthma/COPD medication, or a diuretic ("water pill")
medicines for motion sickness, irritable bowel syndrome, or overactive bladder
other narcotic medications - opioid pain medicine or prescription cough medicine
a sedative like:
drugs that make you sleepy or slow your breathing - a sleeping pill, muscle relaxer, medicine to treat mood disorders or mental illness
drugs that affect serotonin levels in your body - a stimulant, or medicine for depression, Parkinson's disease, migraine headaches, serious infections, or nausea and vomiting

This list is not complete. Other drugs may interact with buprenorphine, including prescription and over-the-counter medicines, vitamins, and herbal products. Not all possible interactions are listed here.

A total of 620 drugs are known to interact with Buprenorphine.

187 major drug interactions
428 moderate drug interactions
5 minor drug interactions
The effects of mixing buprenorphine and alcohol may be unpredictable and can change between individuals. Side effects such as coma, respiratory depression, and other problems can occur if buprenorphine and alcohol are mixed. Buprenorphine is a long-lasting drug, so it is important not to have any alcohol until it is out of your system. It can sometimes last over 24 hours. When mixed with depressants, which include alcohol, the risk for respiratory depression, coma, and death is increased. Depending on a number of things, such as the other medications the individual is taking, the side effects of the mixture can be very dangerous.
Buprenorphine Hydrochloride
Maximum Dosage:
Prescribers Digital Reference

Adults:
0.6 mg/dose IM, 0.3 mg/dose IV, 20 mcg/hour transdermally, or 900 mcg transmucosal every 12 hours for pain; 24 mg/day SL, 300 mg/month extended-release subcutaneous injection, or 4 implants/6 months subdermally for opioid dependence (each implant contains 74.2 mg of buprenorphine).
Geriactric
0.6 mg/dose IM, 0.3 mg/dose IV, 20 mcg/hour transdermally, or 900 mcg transmucosal every 12 hours for pain; 24 mg/day SL, 300 mg/month extended-release subcutaneous injection, or 4 implants/6 months subdermally for opioid dependence (each implant contains 74.2 mg of buprenorphine).
Adolescents:
16 to 17 years: 0.6 mg/dose IM and 0.3 mg/dose IV for pain. Four implants/6 months subdermally for opioid dependence (each implant contains 74.2 mg of buprenorphine). Safety and efficacy of the buprenorphine patch and buprenorphine buccal film for pain have not been established; safety and efficacy of buprenorphine SL and extended-release SQ injection for opioid dependence have not been established.
Adolescents:
13 to 15 years: 0.6 mg/dose IM and 0.3 mg/dose IV for pain. Safety and efficacy of other dosage forms have not been established.
Children:
2 years and older: 6 mcg/kg/dose IV/IM every 4 to 8 hours for pain. Safety and efficacy of other dosage forms have not been established.
Children:
Younger than 2 years: Safety and efficacy have not been established.
Infants:
Safety and efficacy have not been established.
Neonates:
60 mcg/kg/day sublingually has been used off-label for neonatal abstinence syndrome.
Pediatric:
Appropriate studies have not been performed on the relationship of age to the effects of buprenorphine in the pediatric population.

Safety and efficacy have not been established.

Geriatric:
Appropriate studies performed to date have not demonstrated geriatric-specific problems that would limit the usefulness of buprenorphine in the elderly. However, elderly patients are more likely to have age-related liver, kidney, heart or lung problems, which may require caution and an adjustment in the dose for patients receiving buprenorphine in order to avoid potentially serious side effects.

Other Interactions:


Other Medical Problems:
Make sure you tell your doctor if you have any other medical problems, especially:

Addison disease (adrenal gland problem)
Alcohol abuse, or history of
Brain tumor, history of
Breathing problems, severe (eg, hypercapnia, hypoxia, sleep apnea)
Chronic obstructive pulmonary disease (COPD)
Cor pulmonale (serious heart condition)
Drug dependence, especially with narcotics, or history of
Enlarged prostate (eg, BPH, prostatic hypertrophy)
Gallbladder disease or gallstones
Head injury, history of
Heart disease (eg, angina, congestive heart failure)
Heart rhythm problems (eg, atrial fibrillation, slow heartbeat, long QT syndrome)
Hepatitis B or C, history of
Hypokalemia (low potassium in the blood)
Hypomagnesemia (low magnesium in the blood)
Hypothyroidism (an underactive thyroid)
Hypovolemia (low blood volume)
Kyphoscoliosis (curvature of the spine with breathing problems)
Problems with passing urine - Use with caution. May increase risk for more serious side effects

Asthma, acute or severe
Respiratory depression (very slow breathing)
Stomach or bowel blockage (including paralytic ileus) - Belbuca should not be used in patients with these conditions

Constipation
Hypotension (low blood pressure)
Pancreatitis (inflammation of the pancreas), history of
Seizures, history of - Use with caution. May make these conditions worse

Liver disease - Use with caution. The effects may be increased because of slower removal of the medicine from the body

Mucositis (mouth sores or ulcers) - Use with caution. The effects of the Belbuca film may be increased because of more drug being absorbed
Breastfeeding:

Summary of Use During Lactation:


Because of the low levels of buprenorphine in breastmilk, its poor oral bioavailability in infants, and the low drug concentrations found in the serum and urine of breastfed infants, its use is acceptable in nursing mothers.

Monitor the infant for drowsiness, respiratory depression, adequate weight gain, and developmental milestones, especially in younger, exclusively breastfed infants.

Although unlikely, if the baby shows signs of increased sleepiness (more than usual), difficulty breastfeeding, breathing difficulties, or limpness, a physician should be contacted immediately.

Observe infants for withdrawal signs if breastfeeding is stopped abruptly.

Women who received buprenorphine for opiate abuse during pregnancy and are stable should be encouraged to breastfeed their infants postpartum, unless there is another contraindication, such as use of street drugs.

The long-term outcome of infants breastfed during maternal buprenorphine therapy for opiate abuse has not been well studied. The breastfeeding rate among mothers taking buprenorphine for opiate dependency may be lower than in other mothers; however, among women taking buprenorphine as part of an abstinence program, the retention rate may be better in nursing mothers than in non-breastfeeding mothers.

Drug Levels:
Buprenorphine has poor oral bioavailability and is usually given by the sublingual or parenteral route.

Sublingual bioavailability is 30 to 40% in adults and peak levels in blood occur 60 to 90 minutes after a dose.

Buprenorphine is metabolized to the slightly active metabolite, norbuprenorphine. Further metabolism is by glucuronidation to active metabolites.

Effects on Lactation and Breastmilk:


Buprenorphine can increase serum prolactin.

However, the prolactin level in a mother with established lactation may not affect her ability to breastfeed.

Alternate Drugs to Consider:


(Analgesia) Acetaminophen
Ibuprofen
Naltrexone
Buprenex (buprenorphine)
Side Effects:
Get emergency medical help if you have signs of an allergic reaction: hives; difficult breathing; swelling of your face, lips, tongue, or throat.
RxList

Opioid medicine can slow or stop your breathing, and death may occur. A person caring for you should seek emergency medical attention if you have slow breathing with long pauses, blue colored lips, or if you are hard to wake up.
Call your doctor at once if you have:
noisy breathing, sighing, shallow breathing, breathing that stops during sleep
slow heartbeat or weak pulse
blue lips or fingernails
severe constipation
confusion, feelings of extreme happiness
little or no urination
low cortisol levels - nausea, vomiting, loss of appetite, dizziness, worsening tiredness or weakness
Seek medical attention right away if you have symptoms of serotonin syndrome, such as: agitation, hallucinations, fever, sweating, shivering, fast heart rate, muscle stiffness, twitching, loss of coordination, nausea, vomiting, or diarrhea.
Serious side effects may be more likely in older adults and those who are overweight, malnourished, or debilitated.
Long-term use of opioid medication may affect fertility (ability to have children) in men or women. It is not known whether opioid effects on fertility are permanent.
Common side effects may include:
drowsiness
constipation
dizziness, spinning sensation
nausea, vomiting
increased sweating
headache
blurred vision, double vision
This is not a complete list of side effects and others may occur. Call your doctor for medical advice about side effects. You may report side effects to FDA at 1-800-FDA-1088.
Buprenex (buprenorphine) (Rx)
Black Box Warnings:
Opioid analgesic risk evaluation and mitigation strategy (REMS)
To ensure that benefits of opioid analgesics outweigh risks of addiction, abuse, and misuse, the Food and Drug Administration (FDA) has required a REMS for these products; under requirements of the REMS, drug companies with approved opioid analgesic products must make REMS-compliant education programs available to healthcare providers

Healthcare providers are strongly encouraged to:

Complete a REMS-compliant education program
Counsel patients and/or their caregivers, with every prescription, on safe use, serious risks, storage, and disposal of these products
Emphasize to patients and their caregivers the importance of reading the Medication Guide every time it is provided by their pharmacist
Consider other tools to improve patient, household, and community safety
To obtain further information on opioid analgesic REMS and for a list of accredited REMS CME/CE, call 1-800-503-0784, or log on to www.opioidanalgesicrems.com; the FDA Blueprint can be found at www.fda.gov/OpioidAnalgesicREMSBlueprint
Addiction, abuse, and misuse
Risk of opioid addiction, abuse, and misuse, which can lead to overdose and death
Assess each patient's risk prior to prescribing and monitor all patients regularly for the development of these behaviors or conditions
Life-threatening respiratory depression
Serious, life-threatening, or fatal respiratory depression may occur
Monitor for respiratory depression, especially during initiation or following a dose increase
Accidental exposure
Accidental exposure of even 1 dose, especially by children, can result in a fatal overdose
Neonatal opioid withdrawal syndrome
Prolonged use during pregnancy can result in neonatal opioid withdrawal syndrome, which may be life-threatening if not recognized and treated, and requires management according to protocols developed by neonatology experts
Syndrome presents as irritability, hyperactivity and abnormal sleep pattern, high-pitched cry, tremor, vomiting, diarrhea, and failure to gain weight
Onset, duration, and severity of neonatal opioid withdrawal syndrome vary based on the specific opioid used, duration of use, timing and amount of last maternal use, and rate of elimination of the drug by the newborn
If opioid use is required for a prolonged period in a pregnant woman, advise the patient of the risk of neonatal opioid withdrawal syndrome and ensure that appropriate treatment will be available
Risks from concomitant use with benzodiazepines or other CNS depressants
Concomitant use of opioids with benzodiazepines or other central nervous system (CNS) depressants, including alcohol, may result in profound sedation, respiratory depression, coma, and death; reserve concomitant use in patients for whom alternative treatment options are inadequate; limit dosages and durations to minimum required; and monitor for signs and symptoms of respiratory depression and sedation
Liver:


Therapy with buprenorphine has not been associated with serum enzyme elevations, and clinically apparent liver injury has been reported largely with overdose and abuse (intravenous administration of the sublingual formulation).



Buprenorphine Hepatotoxicity:
Buprenorphine therapy has not been associated with serum enzyme elevations during treatment, although the populations studied (opioid addiction) often have coexisting chronic liver diseases which complicate such assessments. Nevertheless, rates of ALT elevations during treatment with buprenorphine (with or without naloxone) have been no greater than with comparator arms (methadone).

In addition, there have been several reports and case series of acute, clinically apparent liver injury arising within 2 to 20 weeks of starting buprenorphine, usually following misuse and intravenous administration of sublingual tablets. However, some cases occurred in patients who denied intravenous use and were on conventional sublingual doses. In most cases, the pattern of serum enzyme elevations was hepatocellular and the presentation resembled acute toxic hepatic necrosis. Immunoallergic features (fever, rash and eosinophilia) were not present, nor were autoantibodies detected. Almost all patients with this injury had concurrent chronic hepatitis C, and several appeared to resolve the chronic infection with the acute liver injury (Case 1). Strikingly, most patients were able to continue buprenorphine without recurrence, some of whom admitted to continued intravenous abuse.
DOJ National Drug Intelligence Center 2004 PDF:
It is unlikely that buprenorphine will render methadone therapy obsolete because it is not as effective in patients who require large doses of opiates in maintenance therapy. However, buprenorphine can provide opiate addiction therapy to individuals addicted to lower doses of opiates, to those in rural areas with inadequate access to treatment, and to those in areas where methadone clinics have reached full capacity. With more physicians obtaining certification to prescribe buprenorphine every day, this form of therapy has the potential to become as common as methadone therapy.
Buprenorphine:


Buprenorphine can be used under the tongue (sublingual), in the cheek (buccal), by injection (intravenous), as a skin patch (transdermal), or as an implant

An opioid
Used to treat opioid use disorder, acute pain, and chronic pain
Maximum pain relief is generally within an hour with effects up to 24 hours.
Opioid withdrawal following stopping buprenorphine is generally less severe than with other opioids
Patented in 1965
Approved for medical use in the United States in 1981
Both buprenorphine and methadone are medications used for detoxification and opioid replacement therapy, and appear to have similar effectiveness based on limited data
Common adverse drug reactions associated with the use of buprenorphine, similar to those of other opioids

Also used recreationally by injection or in the nose for the high it produces

In 2017, 14.6 million prescriptions for the medication were written in the United States
Republican Lawmakers Worry X-Waiver Elimination Could Stir Buprenorphine Diversion - Moreover, because buprenorphine is "itself an opioid," the medication is "extremely vulnerable for misuse and diversion," he added. For that reason, Bucshon said he remains opposed to the "broad ...


Thursday February 02, 2023 - medpagetoday.com

Overdose deaths involving buprenorphine did not proportionally increase with new flexibilities in prescribing - Researchers found that buprenorphine was involved in a very small proportion of drug overdose deaths between July 2019 and June 2021. During this study period, there were 1,955 buprenorphine ...
Thursday January 19, 2023 - eurekalert.org

Easing prescription rules for opioid treatment meds did not increase overdose deaths, study finds - Previously, buprenorphine had to be prescribed in a clinical setting by a prescriber registered with the Drug Enforcement Administration. Recent policy changes have removed the requirement ...
Friday January 20, 2023 - cbsnews.com

Prescriptions for anti-addiction drug buprenophine fall among teens - Buprenorphine is one of three medications approved ... It's also commonly mixed into other illegal drugs like cocaine and heroin to boost their potency. The result is that users are often unaware ...
Tuesday January 24, 2023 - upi.com

Policy change removes one barrier to prescribing buprenorphine - While the pool of eligible prescribers expands, willingness and education among clinicians are critical to reduce addiction treatment gaps.
Wednesday February 01, 2023 - northcarolinahealthnews.org

No Spike in Overdose Deaths From Relaxed Buprenorphine Regulations - Measures enacted in the early days of the COVID-19 pandemic to increase access to buprenorphine did not lead to an increase in the proportion of overdose deaths involving the drug, new research ...
Monday January 23, 2023 - medscape.com

New drugs, if approved, could have big impact in 2023 - Predicting when new drugs come to market in the United States has never been an exact science, but several drugs that could be approved in 2023 could have a significant impact on health for millions ...
Thursday January 26, 2023 - msn.com

Buprenorphine-involved overdose deaths did not increase after implementation of prescribing flexibilities - Researchers found that buprenorphine was involved in a very small proportion of drug overdose deaths between July 2019 and June 2021. During this study period, there were 1,955 buprenorphine ...
Friday January 20, 2023 - news-medical.net

How does methadone work as a heroin-replacement therapy? And what about the longer-acting buprenorphine? - Buprenorphine is the other medicine commonly ... providers also hold prejudices against people who use heroin and other drugs and may treat them poorly, compounding the problem.
Wednesday January 11, 2023 - medicalxpress.com

Will new rules make it harder for telehealth patients to get certain drugs? - Controlled substances became a little less controlled during the pandemic. That benefited both patients (for their health) and telehealth startups (to make money). Some potentially addictive ...
Monday January 09, 2023 - cbsnews.com

Buprenorphine Hydrochloride Market 2023 Research Report which Shows Huge Growth Rate, Revenue, Progress Insight and Forecast to 2028 - Feb 03, 2023 (The Expresswire) -- "Final Report will add the analysis of the impact of COVID-19 on this industry. Global "Buprenorphine Hydrochloride ...
Thursday February 02, 2023 - marketwatch.com