[ Home ] [ Controlled Substances ] [ Opioids ]

Created Jul 2019

|

Updated Oct 2020
HYDROCODONE
[

DIHYDROCODEINONE

]

[

VICODIN

]

[

LORTAB

]

[

NORCO

]

[

ZOHYDRO

]
Hydrocodone is an opiate pain medication used in the relief of moderate to severe pain. Acetaminophen (also known as APAP and paracetamol) is typically used for management of mild to moderate pain; when in combination, it increases the effect of hydrocodone.
Unlike natural Opiates morphine and codeine, hydrocodone is a semi-synthetic opioid. Generally, doctors may decide to write a hydrocodone (brand name Vicodin) prescription to treat short-term pain following dental surgery or for injury-related pain. However, due to the addictive nature of Opioids, regular use of hydrocodone can be habit-forming. Once the body becomes dependent on hydrocodone to feel normal, trying to quit taking them will result in symptoms of withdrawal. In addition to Vicodin, other brand name versions of hydrocodone include Norco and Lortab. Each iteration contains hydrocodone and nonopioid pain reliever, acetaminophen. Hydrocodone without acetaminophen is sold under brand name Zohydro.
While hydrocodone is typically taken orally, some who abuse the drug crush the pills and either snort or inject the powder.
Vicodin (5mg, 7.5mg, or 10mg combined with 300mg acetaminophen)
In 2011, up to 131 million Americans were prescribed Vicodin, often in unnecessary strengths and quantity. In 2014, lawmakers recognized the increasing danger of hydrocodone combination products and changed them from Schedule III to Schedule II controlled substances. Then, the Food and Drug Administration (FDA) announced that all manufacturers cease marketing products with more than 325mg of acetaminophen due to increased risk of liver damage and accidental acetaminophen overdose when taking acetaminophen daily. Previous formulations included 500 mg to 750 mg of acetaminophen per pill.
Norco (7mg, 10mg combined with 325 mg acetaminophen)
Though Vicodin is by far the most common hydrocodone prescription, Norco is still commonly used. Prior to the FDA lowering acceptable levels of acetaminophen in medication, Norco had the least amount of acetaminophen. Subsequently, some addicts chose Norco over other prescription painkillers to avoid the increased risk of consuming too much acetaminophen. Currently however, it has the highest percentage of acetaminophen of the hydrocodone variants.
Lortab (5mg, 7.5mg, 10mg combined with 325mg acetaminophen)
Lortab is a brand name version of hydrocodone similar to brands Norco and Lorcet.
Zohydro (10mg, 15mg, 20mg, 30mg, 40mg, 50mg)
Zohydro was the first purely hydrocodone medication approved by the FDA in 2013. The agency approved the medication against the advice of its scientific advisory board, which voted 11-2 to deny Zohydro's approval. The addition of acetaminophen is thought to lower hydrocodone's risk of abuse, causing many to question the FDA's decision to approve Zohydro. Because pure hydrocodone has a higher risk of abuse than found in Vicodin, Norco, and Lortab, it is generally only prescribed for severe pain.
Long-term abuse of hydrocodone not only changes the way the brain functions but can have lasting effects on mood and thought patterns.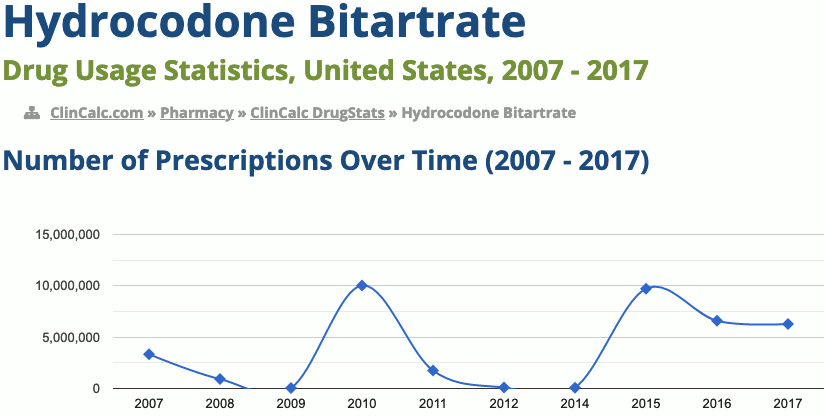 118th most prescribed medicine in the United States for 2017
With nearly 94 million prescriptions written each year, hydrocodone is one of the most popular opioids in the United States. The strength of hydrocodone is similar to that of morphine. Hydrocodone is more potent than tramadol but not as strong as oxycodone. According to a 2017 report by the Drug Enforcement Administration, hydrocodone was the most widely prescribed opioid in the United States from 2007 to 2016. More than 6.2 billion hydrocodone pills were dispensed or sold nationwide in 2016. When used as directed, hydrocodone can effectively alleviate pain. However, the prescription opioid can cause addiction and a host of dangerous side effects when used in excess. The popularity and potency of hydrocodone has caused many Americans to become addicted to the drug. Taking hydrocodone in high doses or using it illicitly can lead to opioid addiction. And once you are addicted, it is hard to get better. According to the DEA's 2017 National Drug Threat Survey, prescription opioids - specifically oxycodone and hydrocodone are the most common type of controlled prescription drugs diverted and abused in the United States. Prescription opioids are extremely dangerous. They can harm a person's physical, psychological and social health.
For many years, hydrocodone was the most prescribed drug in the United States - overall, not just among controlled substances - and available only in immediate-release form, mostly in combination with acetaminophen. Hydrocodone also was arguably the most abused pharmaceutical, partly because it was prescribed in such large numbers. As a controlled substance, therefore, it's not surprising that a portion of the prescriptions was abused. In October 2014, hydrocodone combination products were rescheduled as Schedule 2, making refills impossible and requiring a trip to the prescriber for a new prescription. The reason for the rescheduling is hard to argue against: because of its abuse history and potential, hydrocodone should have been moved to the most restrictive class long ago.
After rescheduling, prescriptions dropped significantly: from 120 million in 2014 to 93.5 million in 2015. The DEA has announced its quota cuts for controlled substances in 2017, reducing hydrocodone prescriptions to just under half of the 120 million written in 2014. Many have protested this cut, which falls on the heels of the significant reduction in prescribing since its rescheduling. It appears that the rescheduling has worked and that the necessity of making further cuts via quotas is questionable.
Extended-release hydrocodone exists, but the abuse-deterrent formulations seem to be working, at least for now, as they are not on the radar for extensive abuse and diversion. If the abuse-deterrent formulations of hydrocodone work as well as those of OxyContin, abuse of the extended-release product should be minimal.
Important Information:


Hydrocodone can slow or stop your breathing. Never use this medicine in larger amounts, or for longer than prescribed. Do not crush, break, or open an extended-release pill. Swallow it whole to avoid exposure to a potentially fatal dose.

Hydrocodone may be habit-forming, even at regular doses. Never share this medicine with another person, especially someone with a history of drug abuse or addiction. Keep the medication in a place where others cannot get to it.

MISUSE OF OPIOID MEDICINE CAN CAUSE ADDICTION, OVERDOSE, OR DEATH. Keep the medication in a place where others cannot get to it.

Fatal side effects can occur if you use opioid medicine with alcohol, or with other drugs that cause drowsiness or slow your breathing.

Tell your doctor if you are pregnant:


Hydrocodone may cause life-threatening withdrawal symptoms in a newborn if the mother has taken this medicine during pregnancy.

Do not drink alcohol. Dangerous side effects or death could occur.

Avoid driving or hazardous activity until you know how hydrocodone will affect you. Dizziness or drowsiness can cause falls, accidents, or severe injuries.
Interactions:


Drug Interactions (520) Alcohol/Food Interactions (1) Disease Interactions (17)


What other drugs will affect Hydrocodone?
You may have breathing problems or withdrawal symptoms if you start or stop taking certain other medicines. Tell your doctor if you also use an antibiotic, antifungal medication, heart or blood pressure medication, seizure medication, or medicine to treat HIV or hepatitis C. Opioid medication can interact with many other drugs and cause dangerous side effects or death. Be sure your doctor knows if you also use:

cold or allergy medicines, bronchodilator asthma/COPD medication, or a diuretic ("water pill")
medicines for motion sickness, irritable bowel syndrome, or overactive bladder
other narcotic medications - opioid pain medicine or prescription cough medicine
a sedative like:
drugs that make you sleepy or slow your breathing - a sleeping pill, muscle relaxer, medicine to treat mood disorders or mental illness
drugs that affect serotonin levels in your body - a stimulant, or medicine for depression, Parkinson's disease, migraine headaches, serious infections, or nausea and vomiting

This list is not complete. Other drugs may interact with hydrocodone, including prescription and over-the-counter medicines, vitamins, and herbal products. Not all possible interactions are listed here.

A total of 520 drugs are known to interact with Hydrocodone.

193 major drug interactions
326 moderate drug interactions
1 minor drug interactions
Lortab Elixir (acetaminophen / hydrocodone bitartrate)
Maximum Dosage:
Prescribers Digital Reference

Adults:
The maximum dosage is dependent on the product. Do not exceed a total daily dose of 4 grams of acetaminophen from ALL sources.
Geriatric:
The maximum dosage is dependent on the product. Do not exceed a total daily dose of 4 grams of acetaminophen from ALL sources.
Adolescents:
>= 46 kg (101 pounds): acetaminophen 3 g/day PO; the maximum dose of the hydrocodone in the combination product is limited by the total daily limit of acetaminophen.
Adolescents:
32-45 kg (70-100 pounds): acetaminophen 2 g/day PO; the maximum dose of the hydrocodone in the combination product is limited by the total daily limit of acetaminophen.
Children:
>= 2 years and 23-31 kg (51-69 pounds): acetaminophen 1.5 g/day PO; the maximum dose of the hydrocodone in the combination product is limited by the total daily limit of acetaminophen.
Children:
>= 2 years and 16-22 kg (35-50 pounds): acetaminophen 1 g/day PO; the maximum dose of the hydrocodone in the combination product is limited by the total daily limit of acetaminophen.
Children:
>= 2 years and 12-15 kg (27-34 pounds): acetaminophen 750 mg/day PO; the maximum dose of the hydrocodone in the combination product is limited by the total daily limit of acetaminophen.
Children:
< 2 years or < 12 kg: Safety and efficacy have not been established.
Infants:
Safety and efficacy have not been established.
Neonates:
Safety and efficacy have not been established.
Hydrocodone
Duration:


A codeine-derived opioid generally unheard of outside the United States. Generally mild in effects, used as an analgesic and cough-supressant. Sometimes used recreationally.

Route
Onset
Duration
After Effects
Tripsit Factsheets

All ROAs:
10-60 minutes
4-8 hours
1-12 hours
Avoid:
Alcohol (Can cause dangerous respiratory depression, which may result in death) Grapefruit juice (Inhibits enzymes in your small intestine, increasing absorption rate to a possible dangerous amount)
Effects:
Euphoria, Dry Mouth, Mood lift, Itchiness, Relaxant, Constipation, Pupil constriction, Analgesia.
Vicodin (hydrocodone bitartrate and acetaminophen)
Side Effects:
Get emergency medical help if you have signs of an allergic reaction: hives; difficulty breathing; swelling of your face, lips, tongue, or throat.
RxList

Opioid medicine can slow or stop your breathing, and death may occur. A person caring for you should seek emergency medical attention if you have slow breathing with long pauses, blue colored lips, or if you are hard to wake up.
In rare cases, acetaminophen may cause a severe skin reaction that can be fatal. This could occur even if you have taken acetaminophen in the past and had no reaction. Stop taking this medicine and call your doctor right away if you have skin redness or a rash that spreads and causes blistering and peeling.
Call your doctor at once if you have:
noisy breathing, sighing, shallow breathing
a light-headed feeling, like you might pass out
liver problems - nausea, upper stomach pain, tiredness, loss of appetite, dark urine, clay-colored stools, jaundice (yellowing of the skin or eyes)
low cortisol levels - nausea, vomiting, loss of appetite, dizziness, worsening tiredness or weakness
Seek medical attention right away if you have symptoms of serotonin syndrome, such as: agitation, hallucinations, fever, sweating, shivering, fast heart rate, muscle stiffness, twitching, loss of coordination, nausea, vomiting, or diarrhea.
Serious side effects may be more likely in older adults and those who are overweight, malnourished, or debilitated.
Long-term use of opioid medication may affect fertility (ability to have children) in men or women. It is not known whether opioid effects on fertility are permanent.
Common side effects include:
dizziness, drowsiness, feeling tired
nausea, vomiting, stomach pain
constipation
headache
This is not a complete list of side effects and others may occur. Call your doctor for medical advice about side effects. You may report side effects to FDA at 1-800-FDA-1088.
Zohydro ER, Hysingla ER (hydrocodone) (Rx)
Black Box Warnings:

Addiction, abuse, and misuse
Long-acting hydrocodone exposes patients and other users to the risks of opioid addiction, abuse, and misuse, which can lead to overdose and death
Assess each patient's risk prior to prescribing, and monitor all patients regularly for the development of these behaviors or conditions
Life-threatening respiratory depression
Serious, life-threatening, or fatal respiratory depression may occur
Monitor for respiratory depression, especially during initiation or following a dose increase
Instruct patients to swallow capsules/tablets whole; crushing, chewing, or dissolving the extended-release dosage forms can cause rapid release and absorption of a potentially fatal dose of hydrocodone
Accidental exposure
Accidental consumption of even 1 dose of hydrocodone, especially by children, can result in a fatal overdose of hydrocodone
Neonatal opioid withdrawal syndrome
For patients who require opioid therapy while pregnant, be aware that infants may require treatment for neonatal opioid withdrawal syndrome
Prolonged maternal use during pregnancy can result in neonatal opioid withdrawal syndrome, which may be life-threatening and requires management according to protocols developed by neonatology experts
Interaction with CNS depressants
Concomitant use of opioids with benzodiazepines or other CNS depressants, including alcohol, may result in profound sedation, respiratory depression, coma, and death
Reserve concomitant prescribing for use in patients for whom alternative treatment options are inadequate
Limit dosages and durations to the minimum required; and follow patients for signs and symptoms of respiratory depression and sedation
Coingestion of Zohydro ER with alcohol may increase hydrocodone plasma levels and result in a potentially fatal overdose (alters release of drug from capsule)
Opioid analgesic risk evaluation and mitigation strategy (REMS)
To ensure that benefits of opioid analgesics outweigh risks of addiction, abuse, and misuse, Food and Drug Administration (FDA) has required a REMS for these products; under the requirements of REMS, drug companies with approved opioid analgesic products must make REMS-compliant education programs available to healthcare
Providers; healthcare providers are strongly encouraged to complete a REMS-compliant education program, counsel patients and/or their caregivers, with every prescription, on safe use, serious risks, storage, and disposal of these products, emphasize to patients and their caregivers the importance of reading the Medication Guide every time it is provided by their pharmacist, and consider other tools to improve patient, household, and community safety
Interaction with CYP3A4 inhibitors
Initiation of CYP3A4 inhibitors (or discontinuation of CYP3A4 inducers) can result in a fatal overdose of hydrocodone from hydrocodone ER
What is the most important information I should know about Hydrocodone?


This medicine can slow or stop your breathing, and may be habit-forming.
MISUSE OF THIS MEDICINE CAN CAUSE ADDICTION, OVERDOSE, OR DEATH, especially in a child or other person using the medicine without a prescription.
An overdose of acetaminophen can damage your liver or cause death.
Call your doctor at once if you have pain in your upper stomach, loss of appetite, dark urine, or jaundice (yellowing of your skin or eyes).
Stop taking this medicine and call your doctor right away if you have skin redness or a rash that spreads and causes blistering and peeling.
IMPORTANT WARNING:
Hydrocodone can be habit forming, especially with prolonged use. Take hydrocodone exactly as directed. Do not take more of it, take it more often, or take it in a different way than directed by your doctor. Do not allow anyone else to take your medication. Hydrocodone may harm or cause death to other people who take your medication, especially children. Hydrocodone may cause slowed or stopped breathing, especially during the first 24 to 72 hours of your treatment and any time your dose is increased. Taking certain medications or stopping treatment with certain other medications while you are taking hydrocodone may increase the risk that you will experience breathing problems, sedation, coma, or other serious, life-threatening side effects. Do not drink alcohol, take prescription or nonprescription medications that contain alcohol, or use street drugs during your treatment. Swallow hydrocodone extended-release capsules or extended-release tablets whole; do not chew, break, divide, crush, or dissolve them. Tell your doctor if you are pregnant or plan to become pregnant.
Liver:


Hydrocodone by itself has not been linked to serum enzyme elevations during therapy or to clinically apparent liver injury, but the combination with acetaminophen has been linked to many cases of acute liver failure due to unintentional overdose with acetaminophen.



Hydrocodone Hepatotoxicity:
Despite wide scale use for many decades, hydrocodone by itself has not been convincingly linked to instances of clinically apparent acute liver injury. However, when combined with acetaminophen, hydrocodone combinations have become a common cause of acetaminophen acute liver injury. The typical history is of a patient who began taking more than the prescribed number of pills over several days, attempting to achieve more of an opiate effect and leading secondarily and unintentionally to an overdose of acetaminophen. Because of the potential for hepatotoxicity, the FDA has warned against the use of opioid combinations in which the dose of acetaminophen is greater than 325 mg per tablet. Hydrocodone, like other opiates, is metabolized in the liver by the P450 microsomal oxidizing enzyme system, and levels can be significantly affected by either inhibitors of CYP 3A4 (which increase levels and can lead to toxicity) or inducers of the enzyme (which decrease levels and can affect efficacy).
Pediatric:
Appropriate studies have not been performed on the relationship of age to the effects of hydrocodone in the pediatric population.

Safety and efficacy have not been established.

Geriatric:
Appropriate studies performed to date have not demonstrated geriatric-specific problems that would limit the usefulness of hydrocodone in the elderly. However, elderly patients are more likely to have confusion and severe drowsiness and age-related liver, kidney, heart, or lung problems, which may require caution and an adjustment in the dose for patients receiving hydrocodone.

Other Interactions:


Other Medical Problems:
Make sure you tell your doctor if you have any other medical problems, especially:

Alcohol abuse
Brain tumor, history of
Breathing or lung problems (eg, apnea, low oxygen levels)
Chronic obstructive pulmonary disease (COPD)
Congestive heart failure
Cor pulmonale (serious heart condition)
Depression, history of
Drug dependence, especially with narcotics, or history of
Electrolyte imbalance
Gallbladder problems
Head injury, history of
Heart rhythm problems (eg, congenital long QT syndrome, slow heartbeat)
Mental health problems, history of
Stomach or bowel problems
Trouble swallowing
Weakened immune system - Use with caution. May increase risk for more serious side effects

Asthma, acute or severe
Lung or breathing problems, severe
Stomach or bowel blockage (eg, paralytic ileus), known or suspected - Should not be used in patients with these conditions

Hypotension (low blood pressure)
Pancreatitis (swelling of the pancreas)
Seizures, history of - Use with caution. May make these conditions worse

Kidney disease
Liver disease - Use with caution. The effects may be increased because of slower removal of the medicine from the body
Breastfeeding:
Summary of Use During Lactation:
Hydrocodone is a opioid narcotic. Benzhydrocodone is a hydrocodone prodrug that is rapidly converted into hydrocodone in the gastrointestinal tract.

Maternal use of oral narcotics during breastfeeding can cause infant drowsiness, central nervous system depression and even death.

Newborn infants seem to be particularly sensitive to the effects of even small dosages of narcotic analgesics. Once the mother's milk comes in, it is best to provide pain control with a nonnarcotic analgesic and limit maternal intake of oral hydrocodone to a few days at a maximum dosage of 30 mg daily with close infant monitoring.

If the baby shows signs of increased sleepiness (more than usual), difficulty breastfeeding, breathing difficulties, or limpness, a physician should be contacted immediately.

Drug Levels:
Hydrocodone is metabolized to 6 active metabolites, including Hydromorphone.

Effects on Lactation and Breastmilk:


Narcotics can increase serum prolactin.

However, the prolactin level in a mother with established lactation may not affect her ability to breastfeed.

Alternate Drugs to Consider:

Hydrocodone is the most frequently prescribed opiate in the United States with more than 136.7million prescriptions for hydrocodone containing products dispensed in 2013 and with 93.7 million and 83.6 million dispensed recently in 2016 and 2017, respectively. There are several hundred brand name and generic hydrocodone products marketed, most of which are combination products. The most frequently prescribed combination is hydrocodone and acetaminophen (Vicodin, Lortab).
Eminem has Vicodin tattooed on his arm.
4 out of 5 available Zohydro ER doses help patients stay at or below the recommended CDC Guideline:

Hydrocodone:


It is made from the opium poppy after it has been converted to codeine.

An opioid
Used to treat severe pain of a prolonged duration, if other measures are not sufficient. It is also used as a cough suppressant in adults.
It is taken by mouth.
Common side effects include dizziness, sleepiness, nausea, and constipation.
Serious side effects may include abuse, low blood pressure, seizures, QT prolongation, respiratory depression, and serotonin syndrome.
Hydrocodone 10 mg is equivalent to about 10 mg of morphine by mouth
Patented in 1923, while the long-acting formulation was approved for medical use in the United States in 2013.

It is most commonly prescribed in the United States, which consumed 99% of the worldwide supply as of 2010. In 2017, it was the 118th most commonly prescribed medication in the United States, with more than six million prescriptions.

Typically it is sold as the combinations acetaminophen/hydrocodone or ibuprofen/hydrocodone. By itself it is sold in a long-acting formulation.
Man gets 15-year sentence for drug, firearm charges - A 57-year-old defendant pled guilty to a slew of felonies — including distribution of Hydrocodone and possession of Oxycodone, methamphetamine and fentanyl — in Whitfield Superior Court on Tuesday, ...


Monday November 27, 2023 - news.yahoo.com

North Dakota woman faces drug charges in North Iowa - A North Dakota woman is facing up to 15 years in prison after allegedly being caught with hydrocodone during a traffic stop Nov. 25.
Monday November 27, 2023 - globegazette.com

Yes, there is a shortage on hydrocodone tablets - Hydrocodone is one of more than 200 drugs the American Society of Health-System Pharmacists lists on shortage.
Wednesday November 15, 2023 - firstcoastnews.com

North Dakota woman arrested for drug crimes in North Iowa - CERRO GORDO COUNTY, Iowa – A North Dakota woman pulled over for multiple traffic violations winds up facing serious drug charges in North Iowa.
Sunday November 26, 2023 - kimt.com

Man charged after distributing prescription pills in Allen County, authorities say - The Allen County Sheriff's Office says it received information in September of last year that Terry Jackson, 33, of Scottsville was distributing prescription pills to individuals in Allen County.
Tuesday November 28, 2023 - wnky.com

Two charged with drug trafficking after multi-agency investigation in Pettis County - Two people were charged with drug trafficking in Pettis County.According to court documents, investigators from the Pettis County Sheriff's Office, Mid-Missouri ...
Wednesday November 15, 2023 - msn.com

The Opioid Epidemic: Pain medicine specialist Dr. Kelly Paulk talks about the drug crisis caused by abuse of prescription pain relief medicines - Opioids are fueling the worst drug crisis in the history of the United States with more than 1,500 people per week dying after taking some type of narcotic, according to the National Center for Health ...
Saturday November 25, 2023 - americanpress.com

Colts owner Jim Irsay says police pulled him over because he's a 'rich, white billionaire' - Indianapolis Colts owner Jim Irsay has told HBO Sports his arrest for operating a vehicle while intoxicated nearly a decade ago occurred because of police prejudice against "a rich, white billionaire.
Wednesday November 22, 2023 - washingtonpost.com

Yes, there is a shortage on hydrocodone tablets - with 245 drugs on the list as of November 15th, including hydrocodone tablets. The ASHP says manufacturers like Amneal, Camber, Majors and Rhodes haven't provided a reason for their shortages.
Wednesday November 15, 2023 - wfmynews2.com