[ Home ] [ Controlled Substances ] [ Depressants ]

Created Apr 2019

|

Updated Nov 2020
CLONAZEPAM
[

KLONOPIN

]

[

CLONOPIN

]

[

RIVOTRIL

]
About Clonazepam:




It's used to control seizures or fits due to epilepsy, involuntary muscle spasms, panic disorder and sometimes restless legs syndrome.
Depending on your health condition, this can relieve anxiety, stop seizures and fits or relax tense muscles. This can also help relieve muscle spasms or symptoms of restless legs syndrome.
Clonazepam is available on prescription only. It comes as tablets and as a liquid that you swallow.
Clonazepam belongs to a group of medicines called benzodiazepines.




Key Facts:




Clonazepam works by increasing levels of a calming chemical in your brain. This can relieve anxiety, stop seizures and fits or relax tense muscles.
The most common side effect is feeling sleepy (drowsy) during the daytime.
Clonazepam is not likely to be addictive if you take it for a short time (2 to 4 weeks).
If you take clonazepam for more than 2 to 4 weeks, your dose will need to be reduced gradually before you stop taking it.

Do not drink alcohol while taking clonazepam. There's a risk you can sleep very deeply and you may have trouble waking up.




How much will I take?




Clonazepam tablets and liquid can be taken by adults aged 18 years and over.
It can also be taken by children from 1 month old for epilepsy.

You'll usually start on a low dose and gradually increase it over 2 to 4 weeks until your doctor thinks the dose is the right dose.




How will it make me feel?




Clonazepam will help you feel calmer and it can reduce your feelings of anxiety.
It can also make you feel sleepy and relaxed and might make you feel confused when you first start taking it.
This will usually get better as you get used to taking the medicine.
It is important to not drive, ride a bike or use tools or machinery if you have any of these side effects.




How long does it take to work?




For seizures, fits and involuntary muscle spasms, it might take a few days to a week for clonazepam to work fully. This is because your dose will be increased gradually until you're taking the right amount.
For panic disorder and restless legs syndrome, clonazepam should take around 1 hour to start working.



Clonazepam, a benzodiazepine, is used primarily as an anticonvulsant in the treatment of absence seizures, petit mal variant seizures (Lennox-Gastaut syndrome), akinetic and myoclonic seizures, and nocturnal myoclonus. Klonopin is the brand name for Clonazepam, an anxiolytic and anticonvulsant. The precise mechanism by which clonazepam exerts its antiseizure and antipanic effects is unknown, although it is believed to be related to its ability to enhance the activity of gamma aminobutyric acid (GABA), the major inhibitory neurotransmitter in the central nervous system. Allosteric interactions between central benzodiazepine receptors and gamma-aminobutyric acid (GABA) receptors potentiate the effects of GABA. As GABA is an inhibitory neurotransmitter, this results in increased inhibition of the ascending reticular activating system. Benzodiazepines, in this way, block the cortical and limbic arousal that occurs following stimulation of the reticular pathways.
Clonazepam is an anti-anxiety medication in the benzodiazepine family, the same family that includes diazepam (Valium), alprazolam (Xanax), lorazepam (Ativan), flurazepam (Dalmane), and others. Clonazepam and other benzodiazepines act by enhancing the effects of gamma-aminobutyric acid (GABA) in the brain. GABA is a neurotransmitter (a chemical that nerve cells use to communicate with each other) that inhibits brain activity. It is believed that excessive activity in the brain may lead to anxiety or other psychiatric disorders. Clonazepam is primarily used for treating panic disorder and preventing certain types of seizures.
The effects of mixing Clonazepam and alcohol can be quite dangerous. Clonazepam, also called Klonopin, is a drug that is classified as a benzodiazepine, which acts as a tranquilizer in the body.
Clonazepam is used to treat panic disorders, compulsive disorders, depression, and psychological disorders.
Once an individual takes Clonazepam, the drug begins to work very quickly.
Because Clonazepam treats chronic disorders without curing them, individuals who are prescribed this drug often take it for extended time periods.
Clonazepam is extremely habit forming. It relaxes muscles quickly and causes a hypnotic effect. This drug also slows down the brain's activity. It can also cause increased anxiety, paranoia, suicidal thoughts, and suicidal impulses.
Both Clonazepam and alcohol are immune system depressants. When alcohol enters the body, it is absorbed by the blood stream. It immediately starts to interrupt communication between nerve cells, which is why those who consume excessive alcohol become uncoordinated, weak, and sluggish.
Just like Clonazepam, alcohol decreases the brain's activity. Alcohol also affects the parts of the brain that control judgment and speech. Just like Clonazepam, alcohol can be habit forming.
Clonazepam has many side effects, and drinking alcohol while taking Clonazepam increases the intensity of these effects. For example, Clonazepam slows down the breathing and heart rate. Taking Clonazepam while drinking alcohol will slow your heart and breathing rate down very quickly, and this can cause fainting or loss of consciousness.
Other side effects of Clonazepam include seizures and memory problems. Combining Clonazepam with alcohol can lead to severe memory loss, and drastically increases the likelihood of a seizure. Because Clonazepam is used to treat mental illnesses, it has the potential to make mental illnesses worse when consumed with alcohol.
Also, because of the tranquilizing effect that both Clonazepam and alcohol have on the body, individuals who abuse alcohol are likely to abuse Clonazepam after being prescribed this drug. It is not uncommon for individuals who are addicted to Clonazepam and alcohol to consume alcohol excessively, particularly when they are temporarily out of the drug.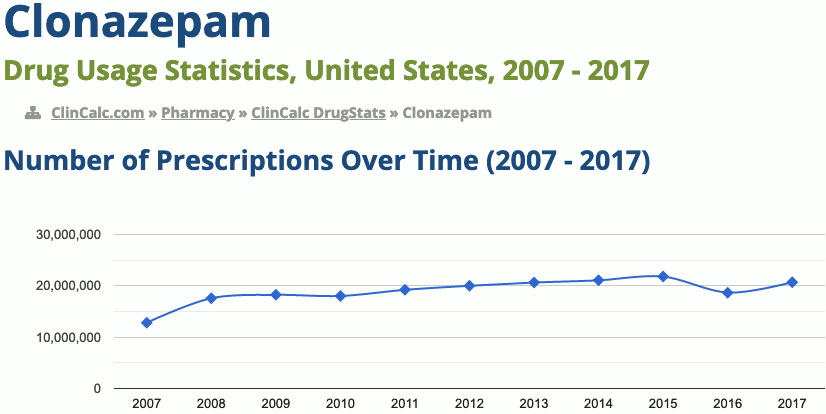 34th most prescribed medicine in the United States for 2017
Clonazepam is a benzodiazepine. It is approved for the treatment of panic disorder (with or without agoraphobia), as well as certain types of seizure disorders. However, benzodiazepines are also commonly used to treat difficulty sleeping and alcohol withdrawal. Panic Disorder occurs when a person experiences unexpected and repeated episodes of intense fear. These episodes have physical symptoms including chest pain, shortness of breath, heart palpitations, sweating, dizziness, and nausea. Fear of future episodes is also part of panic disorder.
Benzodiazepines, such as clonazepam, are often used for short periods of time only. They may produce emotional and/or physical dependence (addiction) even when used as recommended. Physical dependence may develop after 2 or more weeks of daily use.
Avoid drinking alcohol and using illegal drugs while you are taking clonazepam. They may decrease the benefits (e.g., worsen your condition) and increase the adverse effects (e.g., sedation) of the medication. Alcohol increases the risk of accidental overdose with medications like clonazepam.
Klonopin (clonazepam)
Side Effects:
Get emergency medical help if you have signs of an allergic reaction: hives; difficulty breathing; swelling of your face, lips, tongue, or throat.
RxList

Report any new or worsening symptoms to your doctor, such as: mood or behavior changes, anxiety, panic attacks, trouble sleeping, or if you feel impulsive, irritable, agitated, hostile, aggressive, restless, hyperactive (mentally or physically), more depressed, or have thoughts about suicide or hurting yourself.
Call your doctor at once if you have:
new or worsening seizures
severe drowsiness
unusual changes in mood or behavior
confusion, aggression, hallucinations
thoughts of suicide or hurting yourself
weak or shallow breathing
pounding heartbeats or fluttering in your chest
unusual or involuntary eye movements
The sedative effects of clonazepam may last longer in older adults. Accidental falls are common in elderly patients who take benzodiazepines. Use caution to avoid falling or accidental injury while you are taking clonazepam.
Common side effects may include:
feeling tired or depressed
drowsiness, dizziness
memory problems
problems with balance or coordination
This is not a complete list of side effects and others may occur. Call your doctor for medical advice about side effects. You may report side effects to FDA at 1-800-FDA-1088.
Pediatric:
Appropriate studies performed to date have not demonstrated pediatric-specific problems that would limit the usefulness of clonazepam in children with seizure disorders.

However, safety and efficacy in children with panic disorder have not been established.

Geriatric:
Appropriate studies performed to date have not demonstrated geriatric-specific problems that would limit the usefulness of clonazepam in the elderly. However, elderly patients are more likely to have confusion and severe drowsiness, or age-related heart, liver, or kidney problems, which may require caution and an adjustment in the dose for patients receiving clonazepam.

Other Interactions:


Other Medical Problems:
Make sure you tell your doctor if you have any other medical problems, especially:

Depression, history of
Lung or breathing problems
Porphyria - Use with caution. May make these conditions worse

Glaucoma, narrow angle, acute
Liver disease - Should not be used in patients with these conditions

Kidney disease - Use with caution. The effects may be increased because of slower removal of the medicine from the body
Breastfeeding:

Summary of Use During Lactation:
Maternal clonazepam occasionally causes sedation in their breastfed infants, especially when given with other central nervous system depressants.

Monitor the infant for drowsiness, adequate weight gain, and developmental milestones, especially in younger, exclusively breastfed infants and when using combinations of psychotropic drugs.

Monitoring of the infant's serum concentration may be indicated if excessive sedation occurs.

Because it has a long half-life, a safer, shorter-acting drug should be used as rather than clonazepam.

An expert consensus guideline indicates that low-dose clonazepam is an acceptable choice for refractory restless leg syndrome during lactation.

Alternate Drugs to Consider:


(Seizure Disorder) Carbamazepine
Divalproex
Gabapentin
Lamotrigine
Oxcarbazepine
Phenytoin
Valproic Acid
Clonazepam
Duration:


A medium-length common prescription benzodiazepine, often used to treat panic attacks because of its relatively fast sublingual onset. Primarily anxiolytic, but also possessing of other benzo traits.

NOTE: 0.5mg of Clonazepam is approximately equal to 10mg Diazepam.

Route
Onset
Duration
After Effects
Tripsit Factsheets

All ROAs:
20-45 minutes
8-12 hours
8-48 hours
Avoid:
All other CNS depressants.
Aliases:

Effects:
Anxiolytic, Sedative, Muscle Relaxant, Amnesia, Dystaxia, Hypnotic.
Klonopin (clonazepam) (Rx)
Black Box Warnings:

Concomitant use of benzodiazepines and opioids may result in profound respiratory depression, coma, and death; administer concomitantly when there are no alternative options; limit dosages and durations to minimum required; monitor for signs and symptoms of respiratory depression and sedation
Addiction, abuse, and misuse
On September 2020, FDA addressed serious risks of benzodiazepine addiction, abuse, and misuse, which can lead to overdose and death
Physical dependence can occur when taken steadily for several days to weeks, even as prescribed
Stopping abruptly or reducing dosage too quickly can result in withdrawal reactions, including seizures, which can be life-threatening
Assess each patient's risk prior to prescribing and monitor regularly for the development of these behaviors or conditions
Liver:


Therapy with clonazepam is not associated with serum aminotransferase elevations, and clinically apparent liver injury from clonazepam, if it occurs at all, must be exceedingly rare.



Clonazepam Hepatotoxicity:
Clonazepam, as with other benzodiazepines, is rarely associated with serum ALT elevations, and clinically apparent liver injury from clonazepam is extremely rare. However, at least one convincing case report of acute liver injury from clonazepam with recurrence on reexposure has been reported. Rare instances of drug induced liver injury has been reported with other benzodiazepines, such as chlordiazepoxide, diazepam, flurazepam, triazolam, clorazepate and alprazolam. In benzodiazepine related cases of acute liver injury, the latency has ranged from a few weeks to 6 months; the typical pattern of liver enzyme elevations has been cholestatic or mixed, but hepatocellular patterns have also been reported. The injury is usually mild to moderate in severity and self-limited. Fever and rash have not been described nor has autoantibody formation.

D Likelihood score: D (possible but rare cause of clinically apparent liver injury).



Important Information:
You should not use clonazepam if you have narrow-angle glaucoma or severe liver disease, or if you are allergic to diazepam (Valium), lorazepam (Ativan) or a similar medicine.

Call your doctor if you have any new or worsening symptoms of depression, unusual changes in behavior, or thoughts about suicide or hurting yourself.

Do not drink alcohol while taking this medicine. Clonazepam may be habit-forming. Never share clonazepam with another person. Keep the medication in a place where others cannot get to it. Selling or giving away clonazepam is against the law.

Avoid drinking alcohol. Dangerous side effects could occur. Avoid taking similar medications, such as lorazepam (Ativan) or diazepam (Valium) as well as narcotics.

Clonazepam may impair your thinking or reactions. Avoid driving or operating machinery until you know how this medicine will affect you. Dizziness or severe drowsiness can cause falls or other accidents.
Interactions:


Drug Interactions (448) Alcohol/Food Interactions (2) Disease Interactions (10)


What other drugs will affect Clonazepam?
Taking this medicine with other drugs that make you sleepy or slow your breathing can cause dangerous side effects or death. Ask your doctor before taking a sleeping pill, an opioid medicine, prescription cough medicine, a muscle relaxer, or medicine for anxiety, depression, or seizures.

Other drugs may interact with clonazepam, including prescription and over-the-counter medicines, vitamins, and herbal products. Tell each of your health care providers about all medicines you use now and any medicine you start or stop using.

A total of 448 drugs are known to interact with Clonazepam.

26 major drug interactions
390 moderate drug interactions
32 minor drug interactions
WARNING:
Taking clonazepam with opioid medications (such as codeine, hydrocodone) may increase your risk of very serious side effects, including death. To lower your risk, your doctor should have you take the smallest dose of clonazepam that works, and take it for the shortest possible time. Get medical help right away if any of these very serious side effects occur: slow/shallow breathing, unusual lightheadedness, severe drowsiness/dizziness, difficulty waking up.
Clonazepam is a tranquilizer of the benzodiazepine class. It is taken by mouth. It begins having an effect within an hour and lasts between 6 and 12 hours.

A 2006 US government study of emergency department visits found that sedative-hypnotics were the most frequently implicated pharmaceutical drug in emergency department visits, with benzodiazepines accounting for the majority of these. Clonazepam was the second most frequently implicated benzodiazepine in emergency department visits. Alcohol alone was responsible for over twice as many emergency department visits as clonazepam in the same study.
Clonazepam/Strong CYP3A4 Inhibitors Interactions - Consult your healthcare professional before taking or discontinuing any drug or commencing any course ... If you notice an increase in the effects of your clonazepam, such as drowsiness, contact ...


Friday May 04, 2018 - webmd.com

15 students in Mexico treated for viral social media drug 'challenge' - Mexico were treated after participating in a viral social media drug "challenge." The students took tranquilizers in class to see who could stay awake the longest.
Tuesday January 31, 2023 - foxnews.com

Clonazepam : Interaction with Alcohol - Interaction of Clonazepam with Alcohol - For your own safety It is important to understand and avoid the drug-food interaction and how to take the medication. Drug-food interaction can sometimes ...
Sunday March 11, 2018 - medindia.net

Side effects of clonazepam - Clonazepam can cause withdrawal symptoms if you take it for a long time. If you're prescribed clonazepam for more than 4 weeks, your dose may be reduced gradually when you stop taking it to prevent ...
Thursday January 26, 2023 - nhs.uk

Lindsay Clancy was overmedicated on drugs that made her a 'zombie,' lawyer says - The medications that were prescribed were over the top, absolutely over the top," Lindsay Clancy's lawyer declared.
Friday February 03, 2023 - nypost.com

Who can and cannot take clonazepam - Most adults aged 18 years old and over can take clonazepam tablets and liquid. Most children from 1 month old can take it for epilepsy.
Thursday January 26, 2023 - nhs.uk

Rikers doctors accused of causing NYC detainee's death by botching drug withdrawal plan; 'I just want to know what happened:' mom - Lashawn Boatwright is demanding answers over the death of her 28-year-old son after Rikers docs put him on a drug withdrawal plan, only for him to die three weeks later.
Sunday February 05, 2023 - msn.com

Rikers doctors accused of causing detainee's death by botching drug withdrawal plan - A new lawsuit claims city doctors botched a plan to ease a Rikers Island detainee with psychiatric issues off prescription drugs, causing a catastrophic seizure from withdrawal that led him to die.
Monday February 06, 2023 - yahoo.com

Clonazepam Market 2023 : Research Report, Industry Growth, Competitors Analysis and Forecast 2029 - Jan 09, 2023 (The Expresswire) -- Clonazepam Market Size is projected to Reach Multimillion USD by 2029, In comparison to 2022, at unexpected CAGR during the forecast Period 2023-2029. Final ...
Sunday January 08, 2023 - marketwatch.com

Mexico Students Take Pills, Fight Drowsiness In Dangerous TikTok Challenge - With the slogan "The last one to fall asleep wins," the challenge consists of trying to stay awake after taking clonazepam, a drug used to treat seizures, panic attacks and anxiety. A side effect ...
Friday January 20, 2023 - ndtv.com