[ Home ] [ Controlled Substances ] [ Prescription ]

Created Mar 2019

|

Updated Nov 2020
A centrally acting skeletal muscle relaxant whose mechanism of action is not completely understood but may be related to its sedative actions. Carisoprodol is indicated for the relief of discomfort associated with acute, painful musculoskeletal conditions in adults. Most common adverse reactions (incidence > 2%) are drowsiness, dizziness, and headache. Carisoprodol might be mixtured with Aspirin and Codeine Phosphate. Studies indicating increased risk of abuse or addiction led to withdrawal of the drug from the market in Norway and other EU countries in 2008.
Carisoprodol is used to treat muscle pain. Carisoprodol is a prescription drug. It comes in the form of a tablet you take by mouth. Carisoprodol is available as a brand-name drug called Soma. It's also available as a generic drug. Carisoprodol only comes in the form of a tablet you take by mouth. Carisoprodol can cause drowsiness. The use of carisoprodol can cause dependence (addiction). Carisoprodol may cause seizures. This risk is higher if it's used with several drugs that are misused or used in overly high doses. Carisoprodol is used as a short-term treatment for muscle pain. This drug should only be taken for up to two to three weeks. Carisoprodol can make you drowsy. The use of drinks that contain alcohol can make your drowsiness worse. If you drink alcohol, talk to your doctor about whether this drug is safe for you.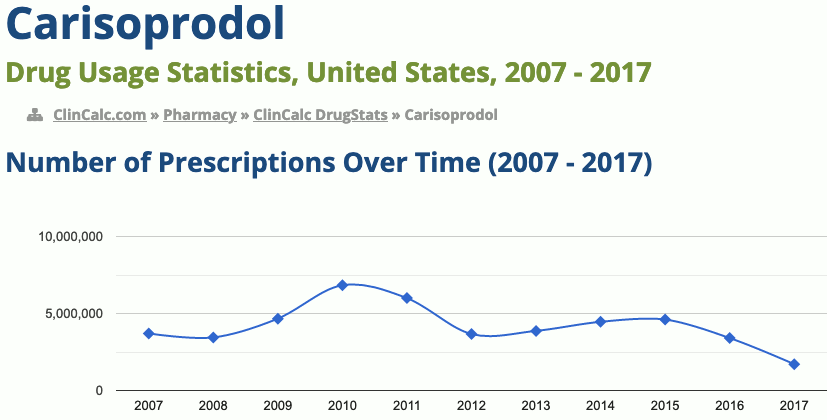 255th most prescribed medicine in the United States for 2017
Marketed since 1959
Use is only approved for up to three weeks. Effects generally begin within half an hour and last for up to six hours. Its approval in Europe was withdrawn in 2008. In the United States the wholesale costs is less than 0.10 USD per dose. In 2016 it was the 181st most prescribed medication in the United States with more than 3 million prescriptions.
Carisoprodol produces the same enzyme-inducing effects as some barbiturates and may be used to potentiate pro-drug opioids (Glutethimide and codeine), most commonly codeine and hydrocodone, by increasing the amount of pro-drug converted into the active metabolites (morphine and hydromorphone, respectively, although only a very small amount of hydrocodone is metabolized into hydromorphone via hepatic oxidation, whereas a large amount of codeine is metabolized into morphine via hepatic enzymes; codeine would have little analgesic effect without its metabolism into its far more potent relative, morphine).
This mechanism, in conjunction with the combined euphoria, sedation, and anxiolytic effects of the two drugs makes the practice incredibly dangerous and unintentional overdoses are common. The combination of hydrocodone and carisoprodol is referred to in some harm-reduction forums as a "Las Vegas cocktail". Many overdoses have resulted from recreational users combining these drugs to combine their individual effects without being aware of the enzyme-induction induced potentiation.
Soma (carisoprodol)
Side Effects:
Get emergency medical help if you have signs of an allergic reaction: hives; difficult breathing; swelling of your face, lips, tongue, or throat.
RxList

Stop using carisoprodol and call your doctor at once if you have:
a seizure (convulsions)
high levels of serotonin in the body - agitation, hallucinations, fever, sweating, shivering, fast heart rate, muscle stiffness, twitching, loss of coordination, nausea, vomiting, diarrhea
Common side effects may include:
drowsiness
dizziness
headache
This is not a complete list of side effects and others may occur. Call your doctor for medical advice about side effects. You may report side effects to FDA at 1-800-FDA-1088.
Pediatric:
Appropriate studies have not been performed on the relationship of age to the effects of carisoprodol in children below 16 years of age.

Safety and efficacy have not been established.

Geriatric:
Appropriate studies on the relationship of age to the effects of carisoprodol have not been performed in the geriatric population.

Safety and efficacy have not been established.

Other Medical Problems:
Make sure you tell your doctor if you have any other medical problems, especially:

Drug abuse or dependence, or history of - Use with caution. Dependence on carisoprodol may develop

Kidney disease
Liver disease - Use with caution. The effects may be increased because of slower removal of the medicine from the body

Porphyria (an enzyme problem), history of - Should not be used in patients with this condition

Seizures - Use with caution. May make this condition worse
Breastfeeding:

Summary of Use During Lactation:


If carisoprodol is required by the mother, it is not necessarily a reason to discontinue breastfeeding.

Slight sedation has occurred in a breastfed newborn infant who was exposed during pregnancy and lactation; sedation might be more pronounced in newborns who are exposed for the first time during nursing.

Other agents may be preferred, especially while nursing a newborn or preterm infant, or when other drugs that can cause sedation are used simultaneously.

Drug Levels:
Carisoprodol is metabolized almost entirely to meprobamate which contributes to the overall sedative effect.

Carisoprodol has a half-life of 4 hours and meprobamate has a half-life of about 10 hours.
Carisoprodol
Duration:


A skeletal muscle relaxant drug also known as Soma, carisoprodol has limited recreational value, however its main metabolite meprobamate has some moderate tranquilising properties. Sometimes found in concoctions with codeine or caffeine.

NOTE: Tolerance raises very fast

Route
Onset
Duration
After Effects
Tripsit Factsheets

All ROAs:
15-30 minutes
2-4 hours
1-3 hours
Aliases:

Effects:
Anxiolytic, Sedative, Muscle Relaxant, Amnesia, Dystaxia, Hypnotic.
Soma (carisoprodol)
Maximum Dosage:
Prescribers Digital Reference

Adults:
1,400 mg/day PO.
Geriatric:
65 years: 1,400 mg/day PO.
Geriatric:
66 years and older: Not recommended.
Adolescents:
16 years and older: 1,400 mg/day PO.
Adolescents:
Less than 16 years: Safety and efficacy have not been established.
Children:
Safety and efficacy have not been established.
Infants:
Safety and efficacy have not been established.
Liver:


Carisoprodol is a centrally acting muscle relaxant that has been in use for more than fifty years without significant evidence for causing hepatic injury.



Carisoprodol Hepatotoxicity:
There have been no adequate prospective studies demonstrating the rates of aminotransferase elevations on carisoprodol therapy or convincing case reports of clinically apparent liver injury due to carisoprodol. Thus, the hepatotoxic potential of this medication is low. It has been increasingly reported as a substance of abuse, taken in higher than recommended doses.

E Likelihood score: E (unlikely cause of clinically apparent liver injury).



Important Information:
You should not take carisoprodol if you have porphyria (a genetic enzyme disorder that causes symptoms affecting the skin or nervous system).

Carisoprodol may be habit-forming. Never share this medicine with another person.

Misuse of habit-forming medicine can cause addiction, overdose, or death.

Carisoprodol can cause side effects that may impair your thinking or reactions. Be careful if you drive or do anything that requires you to be awake and alert. Avoid drinking alcohol. It can increase drowsiness and dizziness caused by this medicine.

You may have withdrawal symptoms when you stop using this medicine after using it over a long period of time. Do not stop using this medication suddenly without first talking to your doctor. You may need to use less and less before you stop the medication completely.

Do not drink alcohol. Dangerous side effects or death could occur.

Avoid driving or hazardous activity until you know how this medicine will affect you. Dizziness or drowsiness can cause falls, accidents, or severe injuries.
Interactions:


Drug Interactions (330) Alcohol/Food Interactions (1) Disease Interactions (3)


What other drugs will affect Carisoprodol?
Sometimes it is not safe to use certain medications at the same time. Some drugs can affect your blood levels of other drugs you take, which may increase side effects or make the medications less effective.

Using carisoprodol with other drugs that make you sleepy or slow your breathing can cause dangerous side effects or death. Ask your doctor before using opioid medication, a sleeping pill, a muscle relaxer, or medicine for anxiety or seizures.

Many drugs can interact with carisoprodol. This includes prescription and over-the-counter medicines, vitamins, and herbal products. Not all possible interactions are listed here. Tell your doctor about all your current medicines and any medicine you start or stop using.

A total of 330 drugs are known to interact with Carisoprodol.

24 major drug interactions
305 moderate drug interactions
1 minor drug interaction
Carisoprodol:


History:
On 1 June 1959, several American pharmacologists convened at Wayne State University in Detroit, Michigan to discuss a new drug. The drug, originally thought to have antiseptic properties, was found to have central muscle-relaxing properties. It had been developed by Frank Berger at Wallace Laboratories and was named carisoprodol. Carisoprodol was a modification of meprobamate, intended to have better muscle relaxing properties, less potential for abuse, and less risk of overdose. The substitution of one hydrogen atom with an isopropyl group on one of the carbamyl nitrogens was intended to yield a molecule with new pharmacological properties.

A medication used to relax muscles after strains, sprains and muscle injuries.
How it works is not clear. Some of its effects are believed to occur following being converted into meprobamate
Approved for medical use in the United States in 1959
Its approval in Europe was withdrawn in 2008
It is taken orally
Use is only approved for up to three weeks
Effects generally begin within half an hour and last for up to six hours
Common side effects include headache, dizziness, and sleepiness
Serious side effect may include addiction, allergic reactions, and seizures
It is available as a generic medication
In 2017, it was the 255th most commonly prescribed medication in the United States, with more than one million prescriptions

Recreational users of carisoprodol usually seek its potentially heavy sedating, relaxant, and anxiolytic effects.
Because of its potentiating effects on narcotics, it is often abused in conjunction with many opioid drugs.
It is not detected on standard drug testing screens.

Combining a muscle relaxant like carisoprodol with opioids and benzodiazepines is referred to as "The Holy Trinity" as it has been reported to increase the power of the "high".
Who should not take Carisoprodol-Aspirin-Codeine Oral? - The following conditions are contraindicated with this drug. Check with your physician if you have any of the following: Selected from data included with permission and copyrighted by First ...


Friday March 26, 2021 - webmd.com

Carisoprodol : Interaction with Alcohol - Interaction of Carisoprodol with Alcohol - For your own safety It is important to understand and avoid the drug-food interaction and how to take the medication. Drug-food interaction can sometimes ...
Thursday July 14, 2022 - medindia.net

Carisoprodol-Aspirin-Codeine Oral - The information is not intended to cover all possible uses, directions, precautions, drug interactions or adverse effects, nor should it be construed to indicate that use of a particular drug is ...
Sunday May 09, 2021 - webmd.com

2 Houstonians among 9 Texans indicted in opioid pill scheme, running pill-mill pharmacies - Nine Texas residents, including two from Houston, were indicted for their alleged involvement in the illegal sale of 1.5 million opioid pills and other drugs on the "black market," the U.S. Department ...
Friday February 03, 2023 - msn.com

9 people from the Houston area arrested for illegally distributing 1.5 million Opioid pills, DOJ says - Authorities with the Department of Justice say nine people have been arrested after allegedly distributing 1.5 million opioid pills and other controlled substances.
Thursday February 02, 2023 - click2houston.com

Nine Texans Arrested for Illegally Distributing 1.5 Million Opioid Pills - Pharmacies are alleged in the indictments to have been controlled by the defendants' drug trafficking organizations.
Thursday February 02, 2023 - hstoday.us

Nine people in Texas charged with distributing 1.5 million opioid pills - Authorities arrested nine people in Houston, Texas, charging them with distributing 1.5 million opioid pills, as well as other illegal substances, according to court documents Thursday.
Thursday February 02, 2023 - upi.com

Man arrested in Asheville for self-made ghost gun and drugs, police say - A man has been arrested for carrying drugs and a self-made ghost gun ... 4DU of oxycodone, 5DU of carisoprodol, and $1,598. Chancellor was booked into the Buncombe County Detention Facility ...
Thursday January 12, 2023 - wyff4.com