[ Home ] [ Controlled Substances ] [ Hallucinogens ]

Created Jan 2019

|

Updated Oct 2020
5-MEO-DIPT
5-METHOXY-N,N-DIISOPROPYLTRYPTAMINE, (POSITIONAL ISOMER: 5-METHOXY-N,N-DIPROPYLTRYPTAMINE (5-MEO-DPT))
Used as a substitute for ecstasy emerged in the recreational drug market has been claimed as the next-generation designer drugs to replace LSD. 5-methoxy-N, N-diisopropyltryptamine (5-MeO-DIPT). - Abused for the hallucinogenic effects it produces, also known as Foxy or Foxy Methoxy belongs to a class of chemical compounds known as tryptamines.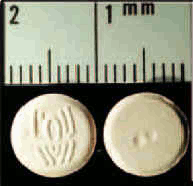 Foxy is typically available as a powder, capsule, or tablet. (Generally the powder is placed into capsules or pressed into tablets before it is sold to users.) Some capsules and tablets contain foxy powder mixed with blue, green, red, purple, tan, orange, gray, or pink powders. The tablets sometimes are embossed with logos such as a spider or an alien head.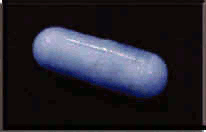 Foxy is typically consumed orally in 6- to 20-milligram dosages, although dosage amounts vary widely. The drug also may be administered via smoking or snorting. Typically, users begin to feel the drug's effects in 20 to 30 minutes. The hallucinogenic effects peak after approximately 60 to 90 minutes and generally last for 3 to 6 hours.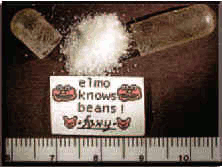 Foxy typically is abused by teenagers and young adults. The drug often is used at raves, nightclubs, and other venues where the use of club drugs, particularly MDMA (ecstasy), is well-established. In order to capitalize on the popularity of MDMA and other club drugs, dealers sell foxy and other noncontrolled synthetic substances in these environments. However, the Drug Enforcement Administration (DEA) made foxy a controlled substance in April 2003.


Foxy produces a variety of negative physical and psychological effects in users. The physical effects include dilated pupils, visual and auditory disturbances and distortions, nausea, vomiting, and diarrhea. The psychological effects associated with the use of foxy include hallucinations, talkativeness, and emotional distress. Foxy also diminishes user inhibitions, often resulting in high-risk sexual activity.
In addition, foxy is a dose-dependent drug. This means that increasing the dose results in a corresponding increase in the intensity of the drug's effects. Doubling a 6-milligram dose, for instance, may produce effects similar to those associated with LSD.
5-MeO-MiPT is a psychedelic in the tryptamine class. It's uncommon relative to LSD and psilocin, but it has been used for a couple of decades. It's not a very visual substance at common doses. Instead, it's known for producing greater tactile, bodily, and sexual effects than other psychedelics.
The dose-response curve is steep, meaning a small increase can yield a substantial change in intensity. A couple milligrams may be all it takes to make an experience unpleasant and overwhelming. Since the drug is quite potent and responses vary between people, users should be careful with their dosing and initially take a light amount to evaluate their response.
Lasts three to six hours
Very little is known about the pharmacological properties, metabolism and toxicity of 5-MeO-DiPT. It is relatively obscure and has a limited history of human use. It has been sold online as a research chemical. It is highly advised to use harm reduction practices if using this substance.
Anecdotal reports characterize the effects of this compound as highly stimulating and mildly entactogenic, lacking in typical psychedelic visual distortions. Many users report strong physical and tactile effects that serve to enhance libido and sexual pleasure. Many users note an unpleasant body load accompanies higher dosages. Some users also report sound distortion, which is also noted with the related compound, DiPT.
5-MeO-DiPT's psychedelic effects are believed to come from its efficacy at the 5-HT2A receptor as a partial agonist, although additional mechanisms of action such as MAOIs may also be involved.[4] However, the role of these interactions and how they result in the psychedelic experience continues to remain elusive.
5-Methoxy-N,N-diisopropyltryptamine (5-MeO-DIPT, 'foxy') is one of the most popular tryptamine hallucinogens in the illicit drug market. It produces serious adverse effects, but its pharmacological profile is not well recognized.
Since September 29, 2004, 5-MeO-DIPT has been permanently controlled as a schedule I substance, because it is used as a substitute for MDMA (Extasy).
5-MeO-DiPT
Duration:


5-methoxy-di isopropyl tryptamine, also known as 'foxy', a psychedelic tryptamine related to DMT, which distorts visual and audio perception. Reported to have a heavy body load at high doses, it behaves similarly to other drugs of its class.

Route
Onset
Duration
After Effects
Tripsit Factsheets

All ROAs:
20-40 minutes
4-8 hours
2-3 hours
Aliases:


Foxy
Foxy-methoxy
5meodipt

Effects:
Euphoria, empathy, insight, brightened colour, Closed/Open eye visuals, enhanced tactile sensation, mental/physical stimulation, decreased appetite, pupil dilation, restlessness, change in perception, ego softening, sweating/chills, muscle tension, confusion, insomnia.
A psychedelic tryptamine
Excessive doses have caused clinical intoxication, characterized by nausea, vomiting, agitation, hypotension, mydriasis, tachycardia and hallucinations, in a number of young adults.
At least one death has been attributed to consumption of 5-MeO-DiPT.
Prior to its prohibition (2004) in the U.S., 5-MeO-DiPT was sold online