[ Home ] [ Controlled Substances ] [ Prescription ]

Created Oct 2019

|

Updated Dec 2020
METHYL-2
5-DIMETHOXYAMPHETAMINE (POSITIONAL ISOMER: 2,5-DIMETHOXY-3,4-DIMETHYLPHENETHYLAMINE (2C-G)) | 2,5-Dimethoxy-4-methylamphetamine
DOM
, a hallucinogen related to
mescaline
and
amphetamine
and designated "STP" by hippies, along with
DOET
, the ethyl homologue of DOM, were given in small doses to normal subjects in a double-blind study. Both drugs increased self-awareness and produced mild euphoria but no hallucinogenic or psychotomimetic effects. The two drugs "freed up" subjects' word associations without impairing memory or concentration; in fact, DOM enhanced performance on serial learning tasks. Although DOM did not affect visual discrimination, it altered the perception of tachistoscopically presented TAT cards.

DOM (STP), a New Hallucinogenic Drug, and DOET: Effects in Normal Subjects:
https://ajp.psychiatryonline.org/doi/abs/10.1176/ajp.125.3.357?journalCode=ajp





DOM:
Is a psychedelic with strong stimulant qualities that has been used since the late 1960s. However, between the 1970s and 1990s, it was almost never used. The drug, which is also known as STP, has a relatively intense body high that can manifest as a feeling of energy and tingling through the body. Because it's a more stimulating psychedelic, it lends itself to physical activities. It may take a long time to begin working, which means you should avoid redosing anywhere near your initial administration. It'd be wise to avoid considering an extra dose for at least 4-5 hours. DOM hasn't caused death even with doses over 20-30 mg, but that doesn't mean those doses can be regarded as safe. While common doses do appear relatively safe for healthy people, you should minimize your use due to the lack of information.

DOM History:

Dec 1, 1963
DOM is first synthesized by Alexander Shulgin in 1963 and is first bio-assayed in December of that year.

1967
DOM (STP) first appears on the street in San Francisco, sometimes being confused with LSD and causing problems due to its long duration.

Jan 14, 1967
Human Be-In in San Francisco is attended by 20,000. 5,000 doses of DOM (STP) were distributed for free, unfortunately, they were distributed in approximately 10-15 mg doses, 5-10 times higher than Shulgin had recommended.

Apr 2, 1968
DOM (STP) was placed under DACA control in the United States, making it illegal to possess, sell, or manufacture except for personal use.

Sep 21, 1973
DOM is placed in Schedule I of the CSA in the U.S. making it illegal to buy, sell, or possess.

- https://erowid.org/chemicals/dom/dom_timeline.php
STP:
Slang for the long lasting psychedelic 2,5-dimethoxy-4-methylamphetamine, also known as DOM. STP was said to stand for Serenity, Tranquility, and Peace. Has properties related to LSD. The high comes in at around half an hour after swallowing the tablet and is at peak at 2 to 3 hours depending on the quantity consumed. High can last 14 to 20 hours depending on dosage (14 to 20 according to 3 - 10 mg of STP consumed)
At 1 mg: Eyes dilated, mouth somewhat dry, and eerie feeling.
At 2.3 mg: Mood elevation, emotional effects and colors become radiant.
At 3 mg: Observation enhanced. Brighter and more colors
At 4 mg: Arousing sensation. Colors intensify and slight hallucinations occur. Effects similar to LSD and Mescaline.
At 5 mg: Magnification of light, colors, and odors. Slight feeling of unhappiness along with joy. Hallucination occurs but can be stopped at will.
At 8 mg: Music and visual warp into one being. "An off-beat fantasy."
At 10 mg: Same as 8 mg, but effects come sooner and lasts a little longer.
At 12 mg: Tremors, feeling of paralysis with music and visuals binding into an erotic fantasy.
Anyone planning on attempting to take STP should know that the effects may take up to an hour or two to show, so taking more dose is strictly unrecommended.
DOM
Duration:


The most popular psychedelic amphetamine due to its pleasant effects, lower potency and shorter duration. Effects have been described as 'sillier' than LSD and related DOX chemicals

Route
Onset
Duration
After Effects
Tripsit Factsheets

All ROAs:
2-4 hours
8-30 hours
12-24 hours
Avoid:
marijuana (Can potentiate effects)
Effects:
visual distortions, a 'stoned' feeling, sense of well being.
Detection:
DOM is a substituted amphetamine, so it can cause you to test positive for amphetamines 3 to 7 days after dosing.
Its use was short-lived due to its side effects:
Over the years, DOM has gained a reputation for being a highly dose-sensitive psychedelic that is often sold on blotting paper and known for its strong visuals, body load and neutral, analytical headspace. Many reports also indicate that the effects of this chemical may be overly difficult to use for those who are not already experienced with psychedelics.
A 1967 Newspaper Article: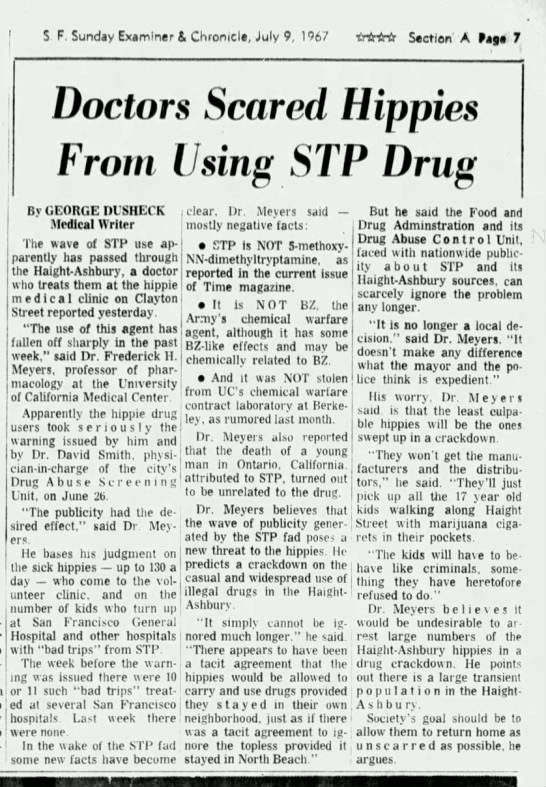 Effects of this drug include substantial perceptual changes such as blurred vision, multiple images, vibration of objects, visual alterations, distorted shapes, enhancement of details, slowed passage of time, increased sexual drive and pleasure, and increased contrasts. It may cause mystical experiences and changes in consciousness. It may also cause pupillary dilation and a rise in systolic blood pressure.

[ Home ] [ Controlled Substances ] [ Sources ]