[ Home ] [ Controlled Substances ] [ Depressants ]

Created Jun 2019

|

Updated Oct 2020
ESTAZOLAM
[

PROSOM

]

[

DOMNAMID

]

[

EURODIN

]

[

NUCTALON

]
Desmethylalprazolam
Estazolam, a triazolobenzodiazepine derivative, is an oral hypnotic agent with anticonvulsant, hypnotic, and muscle relaxant properties. It has been shown in some cases to be more potent than diazepam or nitrazepam. Benzodiazepines bind nonspecifically to benzodiazepine receptors, which affects affects muscle relaxation, anticonvulsant activity, motor coordination, and memory. As benzodiazepine receptors are thought to be coupled to gamma-aminobutyric acid-A (GABAA) receptors, this enhances the effects GABA by increasing GABA affinity for the GABA receptor. Binding of the inhibitory neurotransmitter GABA to the site opens the chloride channel, resulting in a hyperpolarized cell membrane that prevents further excitation of the cell. Used for the short-term management of insomnia characterized by difficulty in falling asleep, frequent nocturnal awakenings, and/or early morning awakenings. Marketed under the brand names ProSom, Eurodin.
This medication is used to treat insomnia. It may help you fall asleep faster, stay asleep longer, and lessen how often you wake up during the night, so you can get a better night's rest. Estazolam belongs to a class of drugs called sedative-hypnotics. It acts on your brain to produce a calming effect. Use of this medication is usually limited to short treatment periods of 1 to 2 weeks or less.
Although unlikely, this drug can rarely cause temporary short-term memory loss. To lessen the chance of this, do not take a dose of this drug unless you have time for a full night's sleep of at least 7 to 8 hours. If you have to wake up before that, you may have some memory loss.
This medication may cause withdrawal reactions, especially if it has been used regularly for a long time or in high doses. Though it helps many people, this medication may sometimes cause addiction.
Rarely, after taking this drug, people have gotten out of bed and driven vehicles while not fully awake ("sleep-driving"). People have also sleepwalked, prepared/eaten food, made phone calls, or had sex while not fully awake. Often, these people do not remember these events.
Prosom (estazolam)
Side Effects:
Estazolam tablets are indicated for the short-term management of insomnia characterized by difficulty in falling asleep, frequent nocturnal awakenings, and/or early morning awakenings. Both out-patient studies and a sleep laboratory study have shown that estazolam administered at bedtime improved sleep induction and sleep maintenance. Because insomnia is often transient and intermittent, the prolonged administration of estazolam is generally neither necessary nor recommended. Since insomnia may be a symptom of several other disorders, the possibility that the complaint may be related to a condition for which there is a more specific treatment should be considered. There is evidence to support the ability of estazolam to enhance the duration and quality of sleep for intervals up to 12 weeks.
RxList

Common side effects of Prosom include:
sleepiness
hypokinesia
dizziness
abnormal coordination
headache
weakness
feeling unwell (malaise)
lower extremity pain
back pain
chest pain
nausea
indigestion
muscle stiffness
dizziness
confusion
depression
abnormal thinking
abnormal dreams
cold symptoms
sore throat
itching
Class Name: Sedative/Hypnotics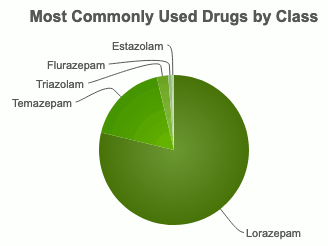 ESTAZOLAM | FLURAZEPAM | TRIAZOLAM | TEMAZEPAM | LORAZEPAM
Because sleep disturbances may be presenting manifestations of a physical and/or psychiatric disorder, symptomatic treatment of insomnia should be initiated only after a careful evaluation of the patient. The failure of insomnia to remit after 7 to 10 days of treatment may indicate the presence of a primary psychiatric and/or medical illness that should be evaluated. Worsening of insomnia or the emergence of new thinking or behavior abnormalities may be the consequence of an unrecognized psychiatric or physical disorder. Such findings have emerged during the course of treatment with sedative-hypnotic drugs. Because some of the important adverse effects of sedative-hypnotics appear to be dose related (see PRECAUTIONS and DOSAGE AND ADMINISTRATION), it is important to use the smallest possible effective dose, especially in the elderly.
Estazolam
Maximum Dosage:
Prescribers Digital Reference

Adults:
2 mg/day PO.
Elderly
2 mg/day PO.
Adolescents:
Safety and efficacy have not been established.
Children:
Safety and efficacy have not been established.
Estozolam (Rx)
Black Box Warnings:

Concomitant use of benzodiazepines and opioids may result in profound respiratory depression, coma, and death; administer concomitantly when there are no alternative options; limit dosages and durations to minimum required; monitor for signs and symptoms of respiratory depression and sedation
Addiction, abuse, and misuse
On September 2020, FDA addressed serious risks of benzodiazepine addiction, abuse, and misuse, which can lead to overdose and death
Physical dependence can occur when taken steadily for several days to weeks, even as prescribed
Stopping abruptly or reducing dosage too quickly can result in withdrawal reactions, including seizures, which can be life-threatening
Assess each patient's risk prior to prescribing and monitor regularly for the development of these behaviors or conditions
Estazolam
Duration:


A rarely prescribed medium-duration prescription benzodiazepine. Mainly used as a hypnotic, it can cause amnesia and lowered inhibitions in excess.

Route
Onset
Duration
After Effects
Tripsit Factsheets

All ROAs:
30-60 minutes
7-12 hours
2-24 hours
Avoid:
All CNS depressants.
Effects:
Anxiolytic, Sedative, Muscle Relaxant, Amnesia, Dystaxia, Hypnotic.
Liver:


As with most benzodiazepines, estazolam therapy has not associated with serum aminotransferase or alkaline phosphatase elevations, and clinically apparent liver injury from estazolam has not been reported and must be very rare, if it occurs at all.



Estazolam Hepatotoxicity:
Estazolam, as with other benzodiazepines, is rarely associated with serum ALT elevations, and clinically apparent liver injury from estazolam is extremely rare, if it occurs at all. There have been no case reports of symptomatic, acute liver injury from estazolam. Cases of clinically apparent hepatitis have been reported with other benzodiazepines including alprazolam, chlordiazepoxide, clonazepam, diazepam, flurazepam and triazolam. The clinical pattern of acute liver injury from benzodiazepines is typically cholestatic and mild-to-moderate in severity with a latency of 1 to 6 months. Fever and rash have not been described nor has autoantibody formation.

E Likelihood score: E (unlikely cause of clinically apparent liver injury).




Pediatric:
Appropriate studies have not been performed on the relationship of age to the effects of estazolam in the pediatric population.

Safety and efficacy have not been established.

Geriatric:
Appropriate studies performed to date have not demonstrated geriatric-specific problems that would limit the usefulness of estazolam in the elderly. However, severe drowsiness, dizziness, confusion, clumsiness, or unsteadiness are more likely to occur in the elderly, which may require an adjustment in the dose for patients receiving estazolam.

Other Medical Problems:
Make sure you tell your doctor if you have any other medical problems, especially:

Alcohol abuse, or history of
Drug abuse or dependence, or history of - Dependence on estazolam may develop

Breathing problems or lung disease, severe
Depression, history of - Use with caution. May make these conditions worse

Kidney disease
Liver disease - Use with caution. The effects may be increased because of slower removal of the medicine from the body
The Prosom brand name has been discontinued in the U.S. If generic versions of this product have been approved by the FDA, there may be generic equivalents available.

Precautions:
Precautions while using Prosom:
You should not use Prosom if you are also using itraconazole or ketoconazole.

Do not use Prosom if you are pregnant. Prosom can cause birth defects or life-threatening withdrawal symptoms in a newborn.

Prosom may be habit-forming. Misuse of habit-forming medicine can cause addiction, overdose, or death.

Avoid drinking alcohol. Dangerous side effects could occur.

Prosom can cause side effects that may impair your thinking or reactions. Be careful if you drive or do anything that requires you to be awake and alert.

The sedative effects of estazolam may last longer in older adults. Accidental falls are common in elderly patients who take benzodiazepines. Use caution to avoid falling or accidental injury while you are taking Prosom.
Interactions:


Drug Interactions (343) Alcohol/Food Interactions (2) Disease Interactions (9)


What other drugs will affect Prosom?
Taking Prosom with other drugs that make you sleepy or slow your breathing can cause dangerous side effects or death. Ask your doctor before taking a sleeping pill, narcotic pain medicine, prescription cough medicine, a muscle relaxer, or medicine for anxiety, depression, or seizures.

A total of 343 drugs are known to interact with Prosom.

26 major drug interactions
284 moderate drug interactions
33 minor drug interactions
Breastfeeding:

Summary of Use During Lactation:
No information is available on the use of estazolam during breastfeeding.

Because of the long duration of action of estazolam, an alternate hypnotic is preferred, especially while nursing a newborn or preterm infant.

Alternate Drugs to Consider:

What is the most important information I should know about eluxadoline?


You should not use estazolam if you are also using itraconazole or ketoconazole.
Do not use estazolam if you are pregnant.
This medicine can cause birth defects or life-threatening withdrawal symptoms in a newborn.
Estazolam may be habit-forming.
Misuse of habit-forming medicine can cause addiction, overdose, or death.
Estazolam 2mg Tablet:
Taking estazolam with opioid medications (such as codeine, hydrocodone) may increase your risk of very serious side effects, including death. To lower your risk, your doctor should have you take the smallest dose of estazolam that works, and take it for the shortest possible time.
A hang-over effect commonly occurs with next day impairments of mental and physical performance. The main safety concern of benzodiazepines such as estazolam is a benzodiazepine dependence and the subsequent benzodiazepine withdrawal syndrome which can occur upon discontinuation of the estazolam. Estazolam should only be used short term and at the lowest effective dose to avoid complications related to long-term use. Non-pharmacological treatment options however, were found to have sustained improvements in sleep quality. The short-term benefits of benzodiazepines on sleep begin to reduce after a few days due to tolerance to the hypnotic effects of benzodiazepines in the elderly.
Benzodiazepines/Selected Stimulants Interactions - Consult your healthcare professional before taking or discontinuing any drug or commencing any course of treatment. Let your healthcare professionals (e.g. doctor or pharmacist) know that you are ...


Tuesday June 02, 2020 - webmd.com

Opioids (Cough and Cold)/Benzodiazepines Interactions - Consult your healthcare professional before taking or discontinuing any drug or commencing any course of treatment. Serious. These medicines may interact and cause very harmful effects.
Thursday October 19, 2017 - webmd.com