[ Home ] [ Controlled Substances ] [ Stimulants ]

Created Jan 2021
SIBUTRAMINE
[

MERIDIA

]

[

REDUCTIL

]

[

SIREDIA

]

[

SIBUTREX

]
Discontinued in many countries
Subitramine is a potent inhibitor of monoamines (serotonin, dopamine, noradrenaline) reuptake that was approved by FDA for the treatmen of obesity. Sibutramine is metabolized to metabolites M1 and M2 which are more active toward the monoamine transporters.The drug was withdrawn from the market because of clinical trial data indicating an increased risk of heart attack and stroke. It was sold under a variety of brand names including Reductil, Meridia and Sibutrex.
Sibutramine (trade name Meridia in the USA, Reductil in Europe and other countries), usually as sibutramide hydrochloride monohydrate, is an orally administered agent for the treatment of obesity.

It is a centrally acting stimulant chemically related to amphetamines.
Sibutramine is classified as a Schedule IV controlled substance in the United States.
In October 2010, Sibutramine was withdrawn from Canadian and U.S. markets due to concerns that the drug increases the risk of heart attack and stroke in patients with a history of heart disease.
Belongs to the class of organic compounds known as chlorobenzenes.
1998 Article:
Sibutramine hydrochloride monohydrate, a schedule IV controlled substance that is structurally related to amphetamine, has been approved by the U.S. Food and Drug Administration for the treatment of obesity. Medical Letter consultants reviewed current information about this new drug.
Sibutramine inhibits the reuptake of norepinephrine, serotonin and dopamine. Through this mechanism, concentrations of neurotransmitters are increased in the brain. The drug is rapidly absorbed from the gastrointestinal tract and is almost completely metabolized on its first pass through the liver. The active metabolites reach a peak concentration in serum in three to four hours, are primarily excreted in urine and partly in feces, and have a half-life of 14 to 16 hours.
Emerging Drug List 2001:
Sibutramine is a beta-phenylethylamine that exhibits monoamine reuptake-inhibitor activity for norepinephrine, serotonin, and to a lesser extent, dopamine. The precise mechanism by which sibutramine acts as an anorexiant is not known. However, sibutramine is believed to act by decreasing food/energy intake or increasing energy expenditure, or a combination of both. The recommended starting dose is 10 mg daily. If, after four weeks, the desired effects are not achieved, the dose can be increased to 15 mg daily. Patients who do not tolerate the 10 mg dose can have the dose reduced to 5 mg daily. Meridia is available in capsule form in two strengths (i.e., 10 mg, and 15 mg).
February 1, 2009 - Question:
What is Meridia (sibutramine), how does it work, and how effective is it in reducing weight?

Answer:
Meridia is a brand name for a product known as sibutramine. It's considered to be an appetite suppressant. It's available only by prescription and it is approved for longer-term use, unlike some of the older appetite-suppressing medications. Meridia works by boosting the levels of two chemical messengers in the brain: norepinepherine and serotonin.

And amplifying this signal from these chemical messengers triggers the satiety center - the satisfaction center in the brain - and helps us feel satisfied earlier in eating episodes that we can effectively have had enough to eat before we've consumed quite as much food as we might otherwise without the medication.

(This) translates into relatively modest additional weight loss, perhaps another 3-5 pounds beyond what we might accomplish if we were simply following a diet and exercise plan. And it may help us achieve a little bit more success in keeping the weight off over the long term.
Sibutramine Oral User Reviews:


24 Total User Reviews
Sibutramine Oral Read Reviews
Condition: Overweight (22 Reviews):
Effectiveness
(4.36)


Ease of Use
(4.64)


Satisfaction
(4.14)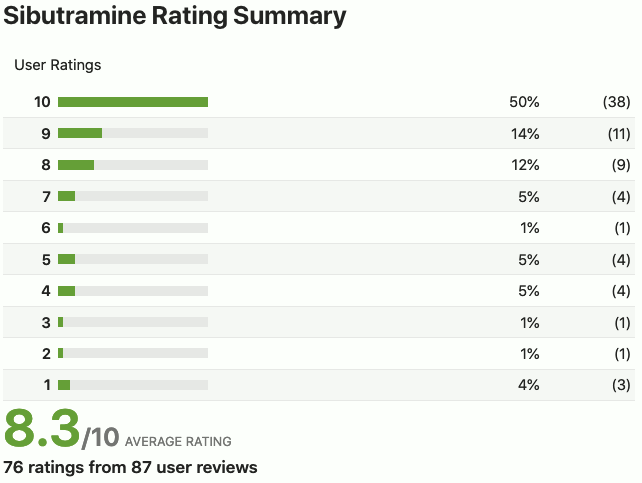 Liver:


In large clinical trials, sibutramine therapy was not associated with serum enzyme elevations, and it has only rarely been implicated in cases of clinically apparent, acute liver injury.



Sibutramine Hepatotoxicity:
Sibutramine has not been linked to an increased rate of serum enzyme elevations during therapy, but the results of serum ALT monitoring have been reported only rarely. Despite its long term availability, only a single case report of acute liver injury attributed to sibutramine has been published. The time to onset was 2 weeks and the pattern of liver enzyme elevation was cholestatic. The liver injury was anicteric and self-limited in course (Case 1). Immunoallergic and autoimmune features were absent. There have been no reports of acute liver failure or chronic liver injury attributed to sibutramine.
Breastfeeding:

Summary of Use During Lactation:
Sibutramine is no longer marketed in the United States.

Because there is no published experience with sibutramine during breastfeeding, an alternate therapy may be preferred, especially while nursing a newborn or preterm infant.

Information on the effect of sibutramine on serum prolactin is somewhat conflicting.
(2002) Petition to Ban Sibutramine:
Public Citizen, a nationwide consumer organization, with a membership of more than 130,000, petitions the FDA, pursuant to the Federal Food, Drug and Cosmetic Act 21 U.S.C. Section 355(e)(3), and 21 C.F.R. 10.30, to immediately ban the unacceptably dangerous prescription diet drug Meridia (sibutramine, Knoll Pharmaceuticals/Abbott). According to the FDA data base, since its launch in early 1998 sibutramine has now been associated with 29 deaths including 19 from cardiovascular adverse effects in people using this minimally effective drug.
Side Effects Warning:

Sibutramine substantially increases blood pressure and/or pulse rate in some patients. Regular monitoring of blood pressure and pulse rate is required when prescribing sibutramine.
In placebo-controlled obesity studies, sibutramine 5 to 20 mg once daily was associated with mean increases in systolic and diastolic blood pressure of approximately 1 to 3 mm Hg relative to placebo, and with mean increases in pulse rate relative to placebo of approximately 4 to 5 beats per minute. Larger increases were seen in some patients, particularly when therapy with sibutramine was initiated at the higher doses.
Blood pressure and pulse should be measured prior to starting therapy with sibutramine and should be monitored at regular intervals thereafter. For patients who experience a sustained increase in blood pressure or pulse rate while receiving sibutramine, either dose reduction or discontinuation should be considered. MERIDIA should be given with caution to those patients with a history of hypertension, and should not be given to patients with uncontrolled or poorly controlled hypertension.
Safety Announcement:
[10-8-2010] The U.S. Food and Drug Administration (FDA) is recommending against continued prescribing and use of Meridia (sibutramine) because this drug may pose unnecessary cardiovascular risks to patients. FDA has requested that Abbott Laboratories - the manufacturer of Meridia - voluntarily withdraw this drug product from the United States market. Abbott has agreed to voluntarily stop marketing of Meridia in the United States.
European Commission final decision:
The European Medicines Agency has completed a review of the safety and effectiveness of sibutramine. The Agency's Committee for Medicinal Products for Human Use (CHMP) has concluded that the benefits of sibutramine do not outweigh its risks, and that all marketing authorisations for medicines containing sibutramine should be suspended throughout Europe.
The European Commission issued a decision on 6 August 2010.
(2010 Article) What about those without Cardiovascualar issues?
The licence for the anti-obesity drug sibutramine has been suspended in Europe: a decision that casts considerable doubt on the ability of the European Medicines Agency (EMA) to correctly apply scientific principles. Preliminary, unpublished data from the Sibutramine Cardiovascular Outcomes (SCOUT) trial have revealed a possible significant increase in cardiovascular events, in a group of individuals for whom the drug has always been contraindicated: those with cardiovascular disease(CVD). The assumption has been made by the EMA that everyone with a BMI of greater than or equal to 27 must have CVD, meaning that nobody in Europe is allowed to take sibutramine, despite a decade of use in real life practice, and a full portfolio of clinical trials, which revealed no danger signals. The concept of primary versus secondary prevention has been arrogantly disregarded by the Agency. Although the possible rise in cardiovascular events in this high-risk group is troubling, and suggests that the known sporadic increases in blood pressure and pulse rate may be more sinister than was previously thought, the evidence profile for the use of sibutramine in obese individuals without CVD is still strongly favourable.
Discontinued in many countries

An appetite suppressant
Originally developed in 1988
Was widely marketed and prescribed until 2010

In 2010 the FDA noted the concerns that sibutramine increases the risk of heart attacks and strokes in patients with a history of cardiovascular disease

Has been associated with increased cardiovascular events and strokes
Has been withdrawn from the market in several countries and regions
In October 2011, the FDA warned that 20 brands of dietary supplements were tainted with sibutramine.
Sibutramine/Antidepressants Interactions - Consult your healthcare professional before taking or discontinuing any drug or commencing any course of treatment. Very Serious. These medicines may interact and cause very harmful effects and ...


Thursday October 19, 2017 - webmd.com

Sibutramine Interaction with other Drugs - Sibutramine has been banned in several countries including the United States, European countries and India due to its cardiovascular side effects like heart attack and stroke.
Thursday June 03, 2021 - medindia.net

Better Than Slim Chances for Orlistat and Sibutramine to Promote Weight Loss - Although sibutramine was developed here, this drug is not yet available to prescribers and we still await a ruling from the European regulatory authorities later this year. Orlistat was launched 2 ...
Wednesday January 04, 2023 - medscape.com

Sibutramine/Antidepressants Interactions - Consult your healthcare professional before taking or discontinuing any drug or commencing any course of treatment. Very Serious. These medicines may interact and cause very harmful effects and ...
Friday June 02, 2017 - webmd.com

Better Than Slim Chances for Orlistat and Sibutramine to Promote Weight Loss - The 2 newest antiobesity drugs to enter the market, orlistat and sibutramine, both promote weight loss when used with a reduced-calorie diet in the long term treatment of obesity. Weight loss is ...
Thursday December 29, 2022 - medscape.com